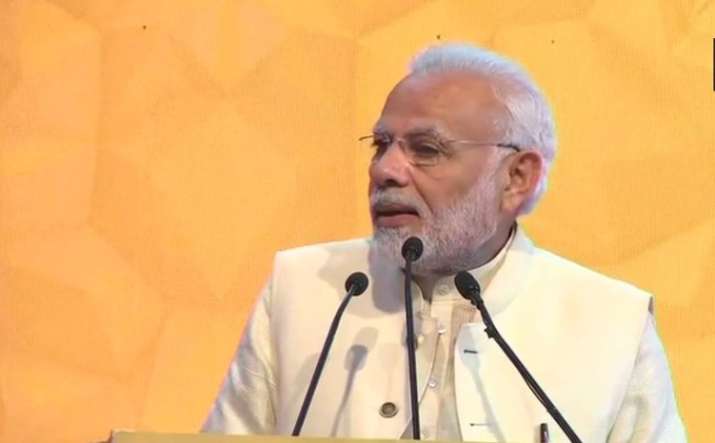 Prime Minister Narendra Modi on Sunday inaugrated the Uttarakhad Investors Summit in Dehradun. The two-day business event- 'Destination Uttarakhad: Investors Summit 2018' is being attended by top industrial leaders and will explore investment opportunities in the state in 12 major sectors, including tourism and hospitality.
He arrived at the Jolly Grant Airport earlier in the day and headed straightly for the summit venue at the International Cricket Stadium, Raipur.
Earlier on Saturday, chief minister Trivendra Singh Rawat said that his government is providing incentives to investors and have a single window clearance, which clears proposals within 15 days. "Tourism is a major driver of economic growth and livelihood promotion in our state, with services sector contributing over 34 per cent to the total gross state domestic product (GSDP) in the year 2015-16. We are very serious about developing this, and recently gave it industry status to help investors avail incentives under Micro, Small and Medium Enterprises (MSME) and mega industrial policy",  he stated.
The two-day event will conclude on Monday and Home Minister Rajnath Singh will address the summit on second day.
HERE ARE THE HIGHLIGHTS:
1:50 PM: It is good to see that all the states are trying to outperform each other in various fields, says PM Modi at the Uttarakhand investors Summit 2018.  He added that some of the Indian states have more potential than many countries in the world. He said all these states need to realise their potential.
1:48 PM: Potential, policy and performance, these are the sources of progress, says PM Narendra Modi at the Uttarakhand investors Summit 2018
1:40 PM: The government has improved tax system in the country and is trying to make it more swift and transparent. Doing business has become easier due to Insolvency & Bankruptcy Code. The banking system has also got strengthened, says PM Modi at Uttarakhand Investors Summit 2018.
1:38 PM: In last two years, the Centre and state governments have taken more than 10,000 steps which have helped India gain more than 42 points in Ease of Business, says PM Modi at Uttarakhand Investors Summit 2018.
1:34 PM: Ayushmaan Bharat will help in building hospitals in tier II and tier III cities, says PM Modi at Uttarakhand Investors Summit 2018
1:30 PM: In the last one year, India's infrastructure has grown. Government is working for the modernisation of 400 railway stations, says PM Modi at Uttarakhand Investors Summit 2018.
1:28 PM: Government has implemented several plans like Housing For All, Fuel for All, Electricity for all for the betterment of the nation, says PM Modi at Uttarakhand Investors Summit 2018.
1:26 PM: GST is the biggest tax-reform post independence, says PM Modi at Uttarakhand Investors Summit 2018.
1:22 PM: India to become primary engine of world growth, says PM Modi at Uttarakhand Investors Summit 2018.
12:40 PM: "Japan and Uttarakhand have a strong relationship; we have been financing forest resource management since 2014 and will continue to support environmental preservation in Uttarakhand." - Kenji Hiramatsu, Japanese Ambassador to Ind
12:24 PM: Czech Republic & Japan are partner countries for 1st Destination Uttarakhand summit. Both the countries are represented by their Hon'ble Ambassadors, Mr Milan Hovorka & Mr Kenji Hiramatsu respectively.
12:07 PM: PM Narendra Modi has inaugurated the Uttarakhand Investors Summit in Dehradun.
11:43 AM: Prime Minister Narendra Modi has reached Dehradun for Uttarakhand Investors Summit. He is accompanied by Chief Minister Trivendra Singh Rawat.
The state had also organised a roadshow in five cities including Bangalore, Hyderabad, Ahmedabad, Mumbai and Delhi to attract investment in the state, in association with Confederation of Indian Industry (CII). The 12 focus sectors of the state include, food processing, horticulture and floriculture, herbal and aromatic, tourism and hospitality, wellness and AYUSH, pharmaceuticals, automobiles, natural fibres, information and technology, renewable energy, biotechnology and film shooting.