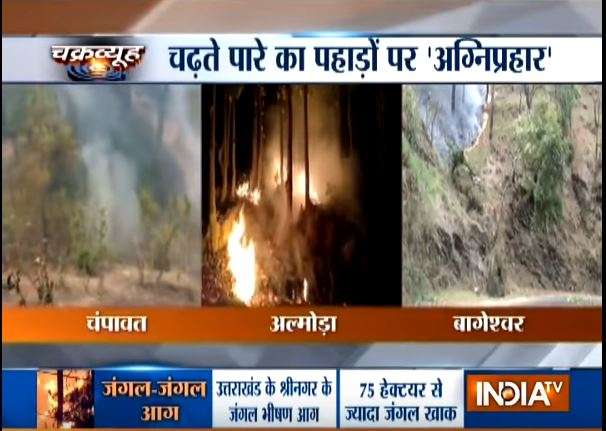 At least 295 incidents of forest fire were reported from different parts of Uttarakhand over the last one day with the worst-hit being Garhwal region. According to PTI report, Chief Minister Trivendra Singh Rawat reprimanded the officials concerned for their "lack of preparedness".
Garhwal region is the worst-hit with the extent of damage being the largest in Pauri district, Chief Conservator of Forest and nodal officer for forest fires B P Gupta said.
295 fresh incidents of forest fires were reported over the past 24 hours. The number of incidents which stood at 741 yesterday has mounted to 1,036 today, the official said, adding efforts are underway on a war footing to control and extinguish the fires.
There are 15-16 points mostly in Pauri district where the fire is activeand we are focusing currently on dousing them, he said.
Meanwhile, Rawat held a meeting with all the District Magistrates and forest department officers such as the DFOs and the nodal officer via video conferencing to review the situation and expressed his displeasure over their lack of preparedness to combat forest fires which occur every year.
"If you were prepared, where is the result?," he asked officials, directing them to involve locals in the fire fighting exercise and warning DMs that they would be held accountable for the incidents in their area.
Rawat also expressed unhappiness over the release of only 50 per cent of a total budget of Rs 12. 37 crore to fight forest fire.
"Forest fire is raging now, for when are you keeping the money? " he asked officials and instructed them to release the remaining amount without any delay to the districts.
The chief minister asked the DMs to fully utilise Rs 5 crore fund given to each of them for disaster management.
"Forest fires are not a problem of the forest department only. The problem should be fought collectively with inter-departmental coordination and officials should not wait for the rains to do their work," he said.
He also suggested that the performance appraisal report of the divisional forest officers must also include steps taken by them to control forest fire incidents and their result.
He also asked districts where there are no active fires at present to be alert.