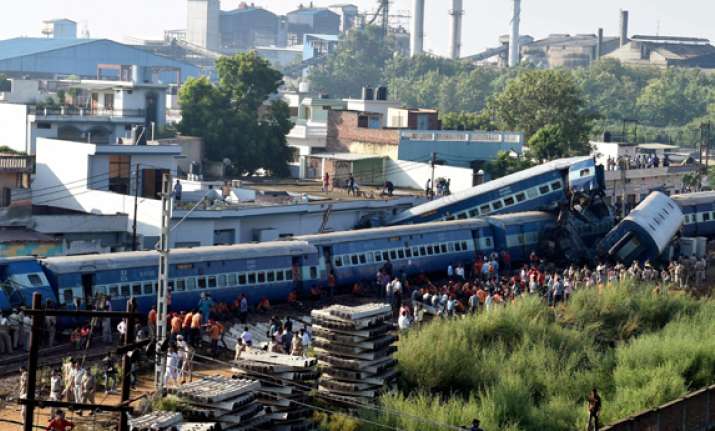 The Railways on Sunday sent on leave its three top officials, including a secretary-level Railway Board official, suspended four officers and transfered one in the aftermath of the Utkal Express derailment near Muzaffarnagar in Uttar pradesh which left 22 people dead and over 150 injured. 
Member (Engineering) in the Railway Board, Northern Railway General Manager and Divisional Regional Manager (Delhi) have been sent on leave in the wake of the derailment in Muzaffarnagar district of Uttar Pradesh, the Railways said.
The Railways also suspended four of its officials - senior divisional engineer, assistant engineer, a senior section engineer (Permanent Way), responsible for track maintenance and a junior engineer.
Chief track engineer, Northern Railway, was transferred as part of the action by the Railways.
The development comes a day after the tragic incident left at least 22 passengers dead and over 150 injured when 14 coaches of the Puri-Haridwar Kalinga Utkal Express derailed at Khatauli, 25 km away from Muzaffarnagar. 
Earlier in the day, the railways officials had indicated that negligence at the local level appeared to have caused the derailment.
Reflecting on the incident, Mohd Jamshed, Member Traffic, Railway Board, said an initial probe has found that maintenance work was being carried out on the tracks which might have caused the derailment. "Prime facie, it seems maintenance work was being carried out on the tracks…. Some maintenance work was going on, which might have caused the derailment of Utkal Express," Jamshed said, adding a probe would reveal if any maintenance work was being carried out on the tracks without permission.
The probe, which will begin tomorrow, will be conducted by the Commissioner, Railway Safety, Shailesh Kumar Pathak, who will look into "every angle, be it sabotage, technical lapse or manual fault".
Jamshed, who visited the spot in Khatauli where the accident occurred yesterday, killing 21 people, said he had seen maintenance tools on the tracks.
"There is some audio clip of some conversation that we will probe. Also, when we did the site inspection, we saw some equipment the railways use for track repair present there." he said.
"Whenever this kind of a big accident happens, coaches get smashed, toppled, capsized and derailed. In this case, a 200-metre track has been damaged completely. It has to be investigated in detail. All measurements are being taken and every lapse is being taken into account," Jamshed said. 
Fix responsibility by the end of day: Suresh Prabhu 
Meanwhile, Railway Minister Suresh Prabhu directed Chairman, Railway Board, to fix the responsibility on "prima facie evidence by the of day" into the derailment. The minister said he was monitoring the situation closely and that restoration of tracks was his top priority.
"Restoration is top priority. Seven coaches tackled. Also ensuring best possible medical care for the injured. monitoring situation closely," he said in a tweet.
"Will not allow laxity in operations by the Board. Have directed CRB to fix responsibility on prima facie evidence by end of day," he tweeted. 
The minister, who has been keeping a close tab on the situation since yesterday, directed senior officials and medical personnel to provide assistance to injured passengers and all possible help to relatives of affected passengers.
Over 50 discharged, 102 still receiving treatment: UP govt
More than 50 passengers who received injuries in the Muzaffarnagar train accident have been discharged from hospitals while 102 others are still receiving treatment, the Uttar Pradesh government said today.
"Today more than 50 passengers, who had received minor injuries, were sent to their homes after treatment. The government is extending all possible help to the stranded passengers so that they could reach their destination," UP Cabinet minister Satish Mahana told PTI.
"Nearly 102 passengers are still receiving treatment in government and private hospitals in Muzaffarnagar and Meerut. Free medicine is being provided to them," he said. 
The state government was also providing food and accommodation to passengers' relatives who are reaching Muzaffarnagar, he said.
Chief Minister Yogi Adityanath had yesterday asked senior ministers Suresh Rana and Satish Mahana to reach the accident site. 
The CM also spoke with the Muzaffarnagar district magistrate and instructed him to ensure all possible relief, an official spokesperson had said. 
"Four NDRF teams were also rushed there – three teams from Ghaziabad and one from Delhi. Besides, 35 ambulances, bread and butter, 1,000 food packets, additional private and UPSRTC buses were arranged. Volunteers were mobilised from adjoining Meerut," the spokeperson had said yesterday.