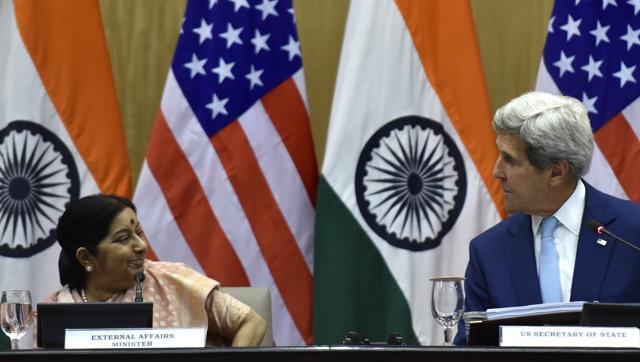 India and US witnessed a defining moment in their progressive relationship as both the countries took swipe at Islamabad over its inability to bring perpetrators of Pahankot attack to justice and for making a distinction between good and bad terrorists.
"The least expectation that we have is that Pakistan take credible action on (those who planned and executed the) Pathankot attack." foreign minister Sushma Swaraj said at the joint press conference after her meeting with US secretary of state John Kerry.
"I am happy to note that there was a meeting of minds on this issue (of terrorism)," Swaraj said.
"We agreed that nations must not maintain double standards, such as the categorisation of good and bad terrorists, nor act as sanctuaries and safe havens for terrorist organisations," she said.
I told John Kerry that Pakistan has to take action against the LET (Lashkar-e-Taiba) , Jaish (e-Mohammed) and D company," said Ms Swaraj, referring to huge terror groups and crime syndicates in Pakistan.
Kerry echoed Swaraj's views, saying the US "stands with India against all terrorism , no matter where it comes from".
He said he had spoken to the Pakistan leadership about the need for Islamabad to "deprive any (terrorist) group of sanctuary".
"We don't make distinctions between good and bad terrorists. Terror is terror," said Mr Kerry, reiterating America's support to India's demand that Pakistan punish the attackers involved in 26/11 and January's terror strike on the Pathankot air force base.
Kerry engaged in extensive "strategic and commercial dialogue" with Foreign Minister Sushma Swaraj, who he referred to warmly and several times by only her first name.
Also, the two countries decided to set up a trilateral dialogue on Afghanistan — another irksome development for Pakistan.
Kerry confirmed that progress was made on an agreement about the construction of six nuclear reactors by US giant Westinghouse. 
"We hope to see our civil nuclear cooperation take shape in the form of new reactors that will deliver reliable electricity to tens of millions of Indian households,"