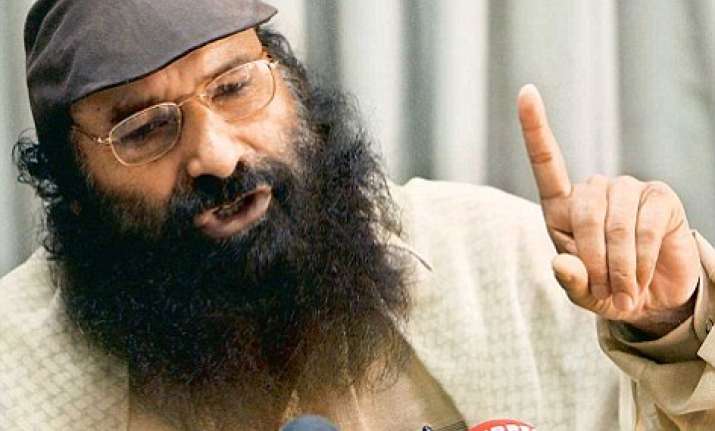 Union Home Secretary Rajeev Mehrishi today justified the US decision to declare Syed Salahuddin a global terrorist and said that the move would affect the Hizb-ul-Mujahideen chief's funding and movement.
Mehrishi termed Salahuddin a "coward" by pointing out that he has fled to Pakistan.
"The United States' stance is correct. He (Salahuddin) is a terrorist, and therefore, he has been declared so. Post declaration, we can expect some impact on his movement and funding. That might help. Otherwise, he is a coward and has fled to Pakistan," the Union Home Secretary said.
Ahead of Prime Minister Narendra Modi's first ever meeting with US President Donald Trump, the Trump administration on Monday declared Hizbul chief Mohammad Yusuf Shah, also known as Syed Salahuddin, as a 'Specially Designated Global Terrorist.'
Welcoming the US decision on Salahuddin, Ministry of External Affairs (MEA) spokesperson Gopal Baglay said that the move is significant as both India and US are facing threat from terrorism.
"In that sense, we would welcome this notification and also underline strongly that both India and U.S. face a threat of terrorism and are working together to counter this threat," Gopal Baglay said. 
The MEA spokesperson further said that the US move vindicates India's long standing position that cross-border terrorism from Pakistan is responsible for the disturbances created in the state of Jammu and Kashmir.
In September 2016, Syed Salahuddin had vowed to block any peaceful resolution to the Kashmir conflict.
Threatening to train more Kashmiri suicide bombers, the Hizbul chief had vowed to turn the Kashmir Valley "into a graveyard for Indian forces."