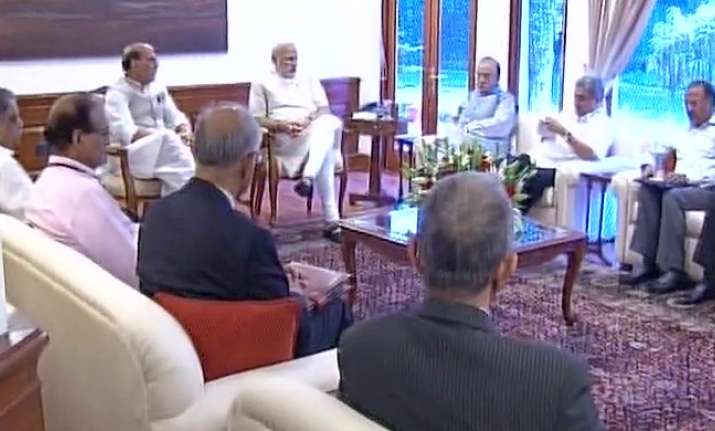 India has decided to hand over all actionable facts and evidences recovered from the four slain terrorists pointing to Pakistan's involvement in the ghastly Uri terror attack that claimed the lives of 17 soldiers on Sunday.  
The evidences include GPS tracker movement details to maps, Pakistani army-marked ammunition, M matrix code sheets among others.
The decision was arrived at during a high-level meeting chaired by Prime Minister Narendra Modi on the Uri terror attack at his residence in the capital today.
The meeting was attended by Union Home minister Rajnath Singh, Army chief Gen Dalbir Singh, Defence minister Manohar Parrikar, Finance minister Arun Jaitley and National Security Adviser Ajit Doval.
The decision to hand evidence of Pakistan's involvement follows the demand by Pakistan's Director General of Military Operations (DGMO) yesterday.
Pakistan has rejected India's allegations of involvement in the ghastly attacks.
In the meet, it was also decided that all the bases near the line of control will get a hard wall boundary. Notedly, the Uri Base only had a barbed wire fence.
Rajnath Singh held a separate meeting with Mr Parrikar and Army Chief Dalbir Singh, both of who visited Jammu and Kashmir yesterday after the attack, and other top officials.
A Pathankot-type suicide strike at dawn on an Indian Army camp at Uri along the Line of Control left 17 soldiers dead and 32 injured and sent India-Pakistan tension soaring.
All four attackers were killed and identified by the Army as being part of the Jaish-e-Muhammed's Afzal Guru squad.
Prime Minister Narendra Modi assured the country that those behind the attack "will not go unpunished". A
Home minister Rajnath Singh pointed fingers at Pakistan, calling it a "terrorist state" and condemning its "continuing and direct support to terrorism and terrorists".
A section of the Indian security establishment is also asking government to also consider a Myanmar like surgical strike on terror camps in Pakistan-occupied Kashmir(PoK). They believe that a political decision has to be taken to send a clear message to Pakistan that "enough is enough".
But others sound a word of caution. "Pakistan is no Myanmar (where Indian Para-SF troops conducted a trans-border raid to take out militants in June 2015).