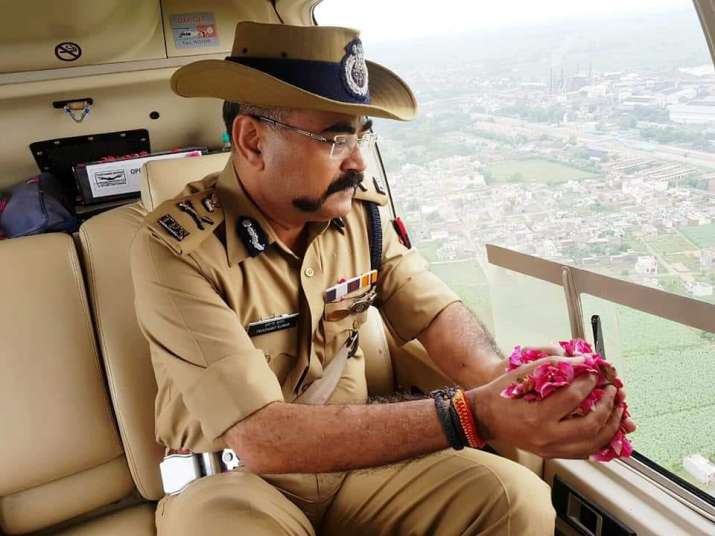 Meerut Police's top cop Prashant Kumar was at the receiving end of a social media backlash after his photo and video of showering petals on Kanwariyas from a chopper went viral. Several Twitter and Facebook users slammed the exercise as a waste of public money. 
Kumar, Additional Director General of Uttar Pradesh Police (Meerut Zone), showered rose petals on Kanwariyas from a helicopter on Wednesday as a part of UP administration's plan to keep the yatris in good spirit. The plan to shower rose petals on Kanwariyas was announced by the Meerut district magistrate Anil Dhingra on July 25. 
UP administration has decided to shower flower petals on them during their journey. For the first time, helicopters will be used to shower flowers on Kanwariyas, the DM had told media. 
#WATCH Additional Director General of Uttar Pradesh Police (Meerut Zone) Prashant Kumar showered rose petals on Kanwariyas from a helicopter yesterday pic.twitter.com/SvHH64DGxr

— ANI UP (@ANINewsUP) August 9, 2018
Along with ADGP(Meerut Zone), Meerut Commissioner Anita Meshram and other senior officials also showered rose petals on Kanwariyas from a helicopter on Wednesday. 
The police department is now caught off-guard with many dubbing the exercise as futile which is costing the state exchequer at the expense of the taxpayer's money. 
"Who foots the helicopter bill for this? Why is public money wasted like this? Feel sorry for cops who bend over backwards to please their political masters," a Twitter user wrote. 
"Four murders including a double murder have been reported in Meerut in the last 48 hrs and here are pictures of senior police officials, DM taking turn for chopper ride to shower flower petals on Kawariyas from thousands of feet above ground. I mean how do you even explain this?," a media person from West UP said on his Twitter account.
The ADG has, however, defended his actions and said that pushvarsha should not be given religious colour. "No religious angle should be given to this, flowers are used to welcome people. Administration respects all religions and actively takes part, even in Gurupurab, Eid, Bakrid or Jain festivals," Kumar told ANI today.
The UP government has undertaken several measures to facilitate Kanwariyas along the route of the annual yatra as they fetch water from Ganges for Lord Shiva. The meat and non-veg restaurants on the route have been requested to either remain shut or serve vegeterian food, several traffic deiviations have been places and administration is undertaking drone and chopper surveys to keep the situation under control. 
The Yogi Adityanath government has also allowed the use of music DJs banned by previous government under Akhilesh Yadav. 
The DJs took a dig at the previous government which had banned loud music during the pilgrimage.
"Akhilesh ne hukum sunaya tha, DJ per ban lagaya tha, 2017 ke chunav me Bhole ne usey haraya tha. Chakke chuda diye Yogi ne. (Akhilesh had announced their order, DJs were banned; And in 2017 Lord Shiva ensured his defeat; Yogi has cut him to size)."
Chief Minister Yogi Adityanath took an aerial survey of the Yatra route during the first half of the Shrawan month that began on July 28. He also showered flower petals from his chopper on the Kanwarias. They responded by prostrating on the highway as the chopper passed and raised slogans in praise of the chief minister. 
WATCH: CM Yogi Adityanath conducts aerial survey of security arrangements on Kawad Yatra route in Meerut. 
#WATCH: CM Yogi Adityanath conducts aerial survey of security arrangements on Kawad Yatra route in Meerut. pic.twitter.com/iYApP0eCe8

— ANI UP (@ANINewsUP) August 3, 2018