Follow us on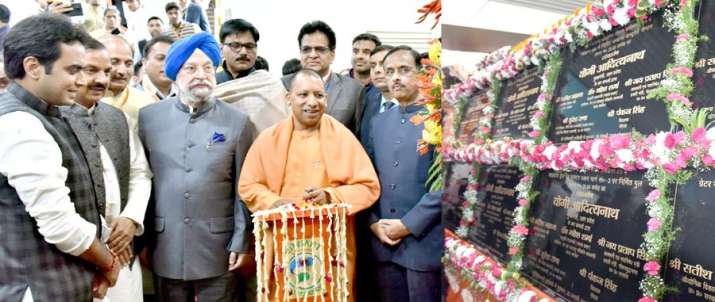 Uttar Pradesh Chief Minister Yogi Adityanath on Friday inaugurated the much-awaited metro rail linking Noida and Greater Noida in Gautam Buddh Nagar. It is also known as the Aqua Line. The rail service which connects the twin-cities would run between Sector 51 station in Noida and the Depot Station in Greater Noida, covering a distance of 29.7 km, and has been built for Rs 5,503 crores.
There are a total of 21 stations on the corridor - 15 of them in Noida and six in Greater Noida – all of them elevated, the Noida Metro Rail Corporation (NMRC) said.
While inaugurating the stretch, the Uttar Pradesh Chief Minister: "Today we dedicate the Noida-Greater Noida metro rail to the people of the region. The Aqua Line, which has been completed in record time, will provide better connectivity to the region and prove to be a milestone in development of the region."
The NMRC said the rail service would begin for citizens on Saturday, while regular rides from 6 am to 10 pm would begin Monday onwards.
Union ministers Hardeep Singh Puri, Mahesh Sharma,  UP Deputy Chief Minister Dinesh Sharma, Cabinet minister Satish Kahana were present at the inauguration ceremony with senior officials of the Noida Authority, Greater Noida Authority and the Yamuna Expressway Authority.
Noida MLA Pankaj Singh, Greater Noida MLA Dhirendra Singh, and Dadri MLA Tejpal Singh Nagar were also present along with Gautam Buddh Nagar District Magistrate B N Singh.
Adityanath, who took the inaugural ride from Sector 137 metro station to the Depot Station, said the Aqua Line would prove to be effective in making the region the "growth engine" of the state and the country.
He also lauded the local agencies for completing the project in record time, as he took a jibe at previous governments in the state as well as at the Centre for delayed projects.
The chief minister said the metro rail network in Ghaziabad would be soon expanded, while revised detailed project reports (DPRs) for metro rail in Agra, Meerut and Kanpur have been sent to the central government.
The Delhi Metro Rail Corporation (DMRC), which operates the Delhi Metro, will assist the NMRC over the next one year in operating the Aqua Line.
The Aqua line has 19 rakes with four cars each, which officials said can be extended depending on requirement.
FULL VIDEO: UP CM Yogi Adityanath inaugurates Noida Metro's 'Aqua Line'