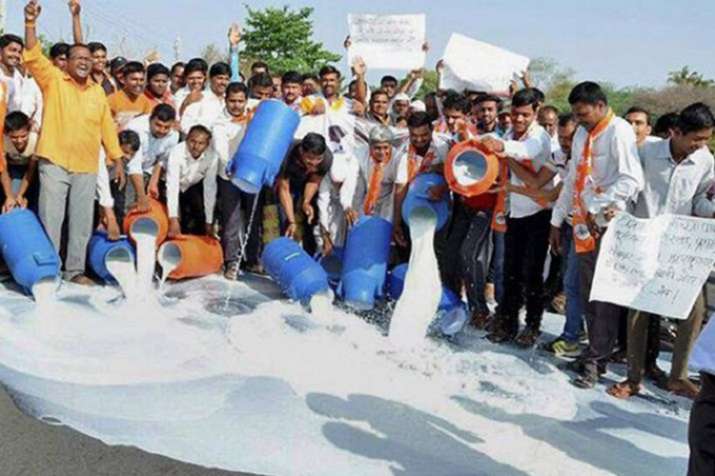 The Shiv Sena on Monday came out in support of the ongoing protest by dairy farmers in Maharashtra and asked why the Central government cannot raise the prices of milk procurement, when it can spend crores on big projects like the bullet train.
"This agitation cannot be ignored just because it was launched by (farmer leader) Raju Shetti. Farmers neither belong to any particular religion or caste, nor any political party. Over 3,000 farmers have ended their lives in the last four years and majority of them had voted for (Prime Minister Narendra) Modi," the Sena said.
"Last year's strike by farmers to press for their demands was a disgrace for the government. Now, instead of suppressing the ongoing agitation of dairy farmers, the state should think about how it can provide relief to them," the party said in an editorial in its mouthpiece 'Saamana'.
On one hand, the government will try to break the agitation, while it would chant slogans of 'Jai Kisan' on the other, the Shiv Sena alleged.
While the government has fixed Rs 27 per litre as the procurement price of milk, currently it is being procured only at Rs 16-18, the party said.
"The Goa and Karnataka governments give Rs 5 per litre subsidy to milk farmers. So what is wrong if the farmers in Maharashtra also seek a similar relief? The government is spending thousands of crores on bullet train, Samruddhi Corridor and Metro rail projects", it said.
"It is even taking a loan for the bullet train, but not willing to increase the procurement price by Rs 5. PM Modi announced a hike in MSP for agricultural goods, but Chief Minister Devendra Fadnavis should clarify whether the farmers in Maharashtra will also get that benefit or not," it added.
The farmers, who once voted Modi to power, have now become disillusioned and distressed, it said adding, "in the recent Bhandara-Gondiya Lok Sabha bypoll, the BJP was defeated by the farmers and the party's win in Palghar bypoll is meaningless."
The Uddhav Thackeray-led party said that people tolerated the all-time high fuel price hike, but for these farmers, increase in the milk procurement price is a matter of life and death.
"Where does the stubbornness, with which the government is trying to implement the Nanar refinery and bullet train projects go when it comes to giving justice to farmers?" the party asked.
A protest has been launched by the farmers' organisation in the state, to demand a hike of Rs 5 per litre in milk procurement prices.
Milk tankers have been blocked in several districts of Maharashtra in the protest which began early Monday.