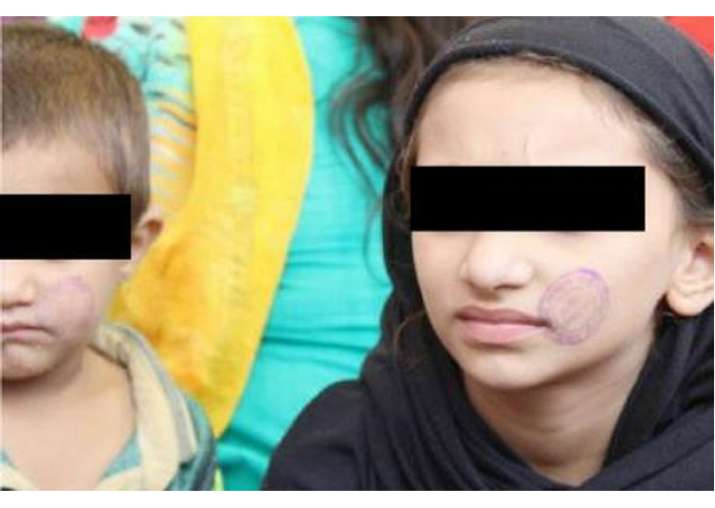 In an inhuman act reported from Bhopal Central Jail, authorities here stamped two minors with an entry seal on their face when they had gone to meet their jailed relatives on the occasion of Rakshabandhan yesterday. This weird case of tagging for identity has now triggered a major controversy with the Madhya Pradesh Human Rights Commission (MPHRC) taking cognizance of the matter.
The photographs of two children including a girl with an entry seal on their faces surfaced in a section of media today and has gone viral on internet.
The jail authorities, however, said that the incident of 'stamping-seal-on-face' was an unintentional goof-up and might have been done mistakenly due to surge of visitors in the jail premises to mark the festive day of Raksha Bandhan. 
"Couple of children might have been stamped an entry seal on their cheeks. It was unintentional and done mistakenly as over 8,500 people mostly women and children visited the jail premises on the day of Raksha Bandhan," Bhopal Central Jail's Superintendent Dinesh Nargave said.
Nargave said that there is a practice of putting an entry seal on every visitor's hand in a bid to distinguish them from the jail inmates. "The visitors mix up with the prisoners and it is hard to point them out. So, a stamp is embossed on the hand of a visitor to identify them," he added.
Nargave doubted that this goof-up might have occurred as some women and girls wear burqa. "We are conducting an inquiry into the matter. We will take action against the employee concerned, if found that this was done intentionally," he assured. 
Meanwhile, the MPHRC has served a notice to the Director General (jails) seeking an explanation on this incident within seven days of notice. "MPHRC has taken cognizance of the incident after the photograph of two minors with stamp on face was published today in the newspapers. We have served a notice to Director General (jails) seeking explanation about the incident," Commission's public relation officer LR Sisodia said. 
He said the Commission considered the stamp-on-the-face of child and the girl as the breach of human rights and also violation of child rights.