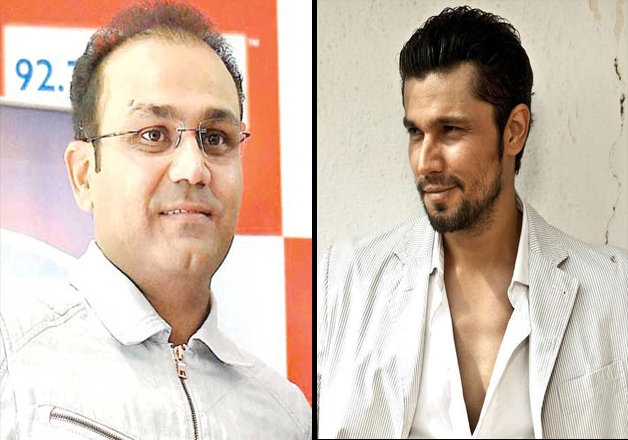 Cricketer Virender Sehwag and Bollywood actor Randeep Hooda's tweets, in response to the protest campaign against ABVP initiated by Delhi University student Gurmehar Kaur, has triggered a war on Twitter. 
In his tweet on Monday, Sehwag, without directly referring to the daughter of Kargil War martyr Captain Mandeep Singh, posted a picture of him in a similar style, holding a banner that read "I didn't score two triple centuries, my bat did". 
Bat me hai Dum !#BharatJaisiJagahNahi pic.twitter.com/BNaO1LBHLH

— Virender Sehwag (@virendersehwag) February 26, 2017
Following the violent clashes in Ramjas College, Kaur had changed her Facebook profile picture in which she was holding a placard which read: "I am a student from Delhi University. I am not afraid of ABVP. I am not alone. Every student of India is with me. #StudentsAgainstABVP". 
Last Wednesday, Ramjas College witnessed large-scale violence between members of AISA and ABVP workers. The brawl started over an invite to JNU students Umar Khalid and Shehla Rashid to address a seminar on 'Culture of Protests' which was withdrawn by the college authorities following opposition by the ABVP. 
Sehwag's tweet, which was retweeted 18,174 times and liked by 28,861 people, was applauded by Hooda. 
👏👏👏👏👏👏 @virendersehwag 😂😂😂😂 https://t.co/IcxuewcPMP

— Randeep Hooda (@RandeepHooda) February 26, 2017
Here is how twitterati reacted to Sehwag's post: 
u both just lost a fan. 😢 if u cnt support her effort to erase the deeprooted hatred thn dnt mock her atleast.

— Stuti Jain (@StutiJain1) February 26, 2017
why r u so bothered that i am , free country brother think he was a wimp to take on a 20 yr old #loser @virendersehwag

— Salilacharya (@Salilacharya) February 26, 2017
The Day you will lost your Near/Dear one in WAR then you will get to know & will stop doing this nonsense. Shame on you @virendersehwag

— Kumar Amit (@Ikumar7) February 26, 2017
GROW UP MAN! Calling him a #loser for this? Are you nuts? He just did this for his fun not mocking anyone!

— Karan Kukreja (@kukki1411) February 26, 2017
The issue escalated on Monday when the student alleged that she received "rape threats", and that she has attracted a barrage of hate messages over her stand on the issue. 
"I have been getting a lot of threats on social media. I think it is very scary when people threaten you with violence or with rape," she told a news channel.
She today filed a complaint with the Delhi Commission for Women after alleging threats over her social media posts.