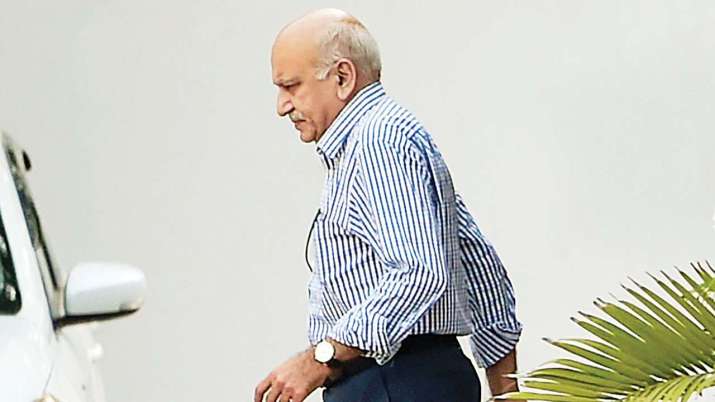 Thursday saw scores of scribes, lawyers and onlookers throng the court room at Patiala House district courts complex to witness the first hearing of the high-profile defamation case filed by former Union minister M J Akbar against journalist Priya Ramani for levelling sexual harassment allegations against him. Akbar's name had cropped up in the social media campaign #Metoo against alleged sexual harassment when he was in Nigeria. The other women who accused Akbar of sexual harassment, included Ghazala Wahab, Shuma Raha, Anju Bharti and Shutapa Paul.
Hours after returning home, Akbar had termed the allegations levelled against him by several women as "false, fabricated and deeply distressing" and filed a criminal defamation case against journalist Priya Ramani, alleging she "wilfully" and "maliciously" made imputations against him with the ulterior motive of maligning his reputation and political standing. Expressing her readiness to fight the defamation allegations, Ramani had said Akbar was trying to silence serious allegations made against him, through "intimidation and harassment".
Akbar's plea had listed alleged defamatory imputations made by Ramani on social media and also referred to his "long and illustrious" career as a journalist while terming the allegations of Ramani as a "figment of her imagination".
Senior lawyer Geeta Luthra, appearing for Akbar, started the argument leading to the magistrate taking cognizance of the complaint as hearing began on October 18. During the hearing, the court decided to record the statement of former minister M J Akbar's criminal defamation complaint of being accused of sexual misconduct around 20 years ago by journalist Priya Ramani, on October 31.
Here is what MJ Akbar's counsel told the court in Akbar's defence:
# Launching an attack on journalist Priya Ramani and her social media posts, Akbar, through his lawyer Geeta Luthra, said the defamatory tweets have caused irreparable loss to his reputation built over 40 years. 
# The counsel also said the articles in international and national media quoted these defamatory tweets which were defamatory unless Ramani proves anything against Akbar.
# Luthra mentioned that Ramani's objectionable tweets have been merrily retweeted by a number of other people and various news items were written on their basis in national and international newspapers and other media platforms.
# Luthra said calling Akbar a "predator" in tweets was "defamatory" and also referred to an article written by Ramani herself.
# The counsel sought to show the extent of defamation caused to Akbar and said his reputation has lowered in public. She said people have read tweets and the article by Priya Ramani, and that the number of retweets and likes crossed thousands which showed the extent of defamation.
# The senior lawyer referred to the sequence of events and said that Akbar has resigned from the post of Minister of State for External Affairs due to these allegations made in the "defamatory" tweets and other posts. 
# She also referred to the reputation of Akbar as a journalist and sought judicial intervention in the matter by taking cognisance of the complaint. 
# The senior counsel kept drawing court's attention to the "damage" caused to Akbar's position. Akbar, through Luthra, told court, "My reputation has been damaged. I have been elected to Parliament. I am a longstanding journalist and have written various books. This shows I had a reputation, which has been damaged." 
WATCH VIDEO: