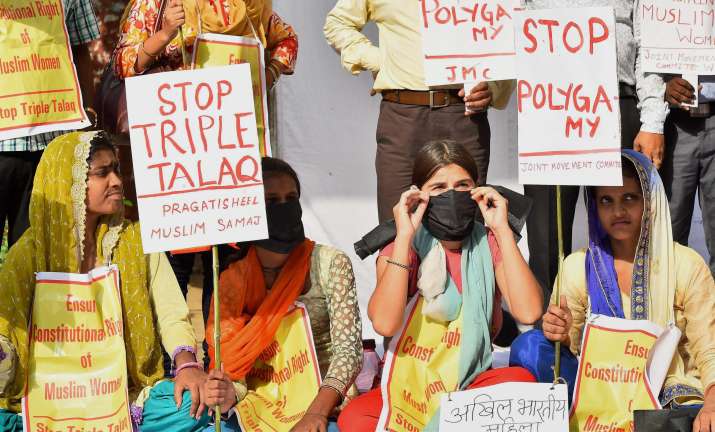 The Supreme Court on Tuesday held triple talaq being practised by the Muslim community as "unconstitutional", "arbitrary" and "not part of Islam".
A five judge constitutional bench by a 3:2 majority judgement said there is no constitutional protection for triple talaq.
(Read the details of SC verdict here)
People from the Muslim community and different sections of society have welcomed the decision by the apex court on triple talaq. The buzz continued on Twitter also following the SC's verdict on Tuesday.
Let's have a look at some top reactions from Twitterati on Tuesday's historical decision -
#SupremeCourt rules that #TripleTalaq is unconstitutional.

India achieves unity in divorcity.

— Ramesh Srivats (@rameshsrivats) August 22, 2017
#TripleTalaq Major step towards fair treatment towards Muslim women.welcome Supreme Court's historic verdict striking down unfair practice

— poonam dhillon (@poonamdhillon) August 22, 2017
#TripleTalaq When judgment like this happened faith in judiciary gets restored..

— Prashant Singh (@itsmepks01) August 22, 2017
Any law which is being misused is not a law. A great day for all those women who were supressed because of #TripleTalaq

— ANUPRIYA (@cricketwoman) August 22, 2017
1829-Abolition of Sati Practice
2017-Abolition of Triple Talaq
Disrooting unwanted religious customs takes centuries ??#TripleTalaq

— ?av??e?a ?all?? (@ravitejakallur) August 22, 2017
Supreme Court bans #TripleTalaq in its #landmark verdict. A great #win for #Women in #India.

— Ashutosh Mehrotra (@Ashutosh_04) August 22, 2017
#TripleTalaq congrats to all muslim women's. Congrats to pm @narendramodi who always stands with Muslim women.

— SHASHANK GUPTA (@shashank_gpt) August 22, 2017
Credit goes to the Lady who filed the petition & the Supreme Court for faster proceedings, ? #kyabaathaii #TripleTalaq #Teentalakverdict

— Rajesh Sinha (@RajTau9) August 22, 2017
#HailSC #TripleTalaq Now hope with Political Class to give #MuslimWomen freedom from this evil practice https://t.co/mIfpNBwFpp

— Veekey Kanojia (@decentandsimple) August 22, 2017
#TripleTalaqVerdict Though I am not supporting #TripleTalaq but Muslims, get ready to waste money & time for divorce.

— Salim Hafezi (@SalimHafezi) August 22, 2017
The Govt. of India explained the success of how Muslims in our country are protected. One of the great success of NDA govt. ??#TripleTalaq

— Abhijit Dutta (@AbhijitInd) August 22, 2017
Taking Credit for the Historic SC Order on #TripleTalaq by #BJP will undermine the status & independence of the #SC. #StopPoliticising.

— Jayant K Mohapatra (@Jkm567) August 22, 2017
We live in a country where each and every person is equal against law. Now, Muslim woman can proudly say that. #TripleTalaq

— Roushan Gupta (@muffz_ronny) August 22, 2017