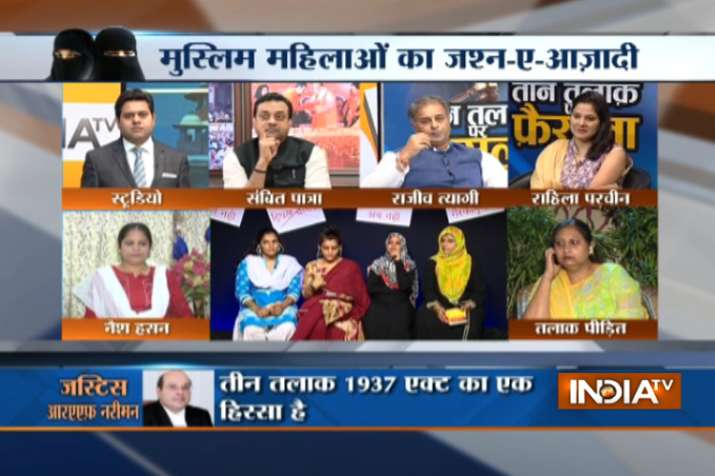 The Supreme Court, in a landmark verdict, held the 1,400-year-long practice of 'triple talaq' as 'unconstitutional' and against the basic tenets of Islam. 
In a 3:2 majority judgment, the apex court struck down the practice of instant divorce and said the arbitrary practice had no constitutional protection.
In an exclusive show at India TV, people representing stakeholders including Muslim women, politicians as well as clerics debate the apex court's judgement and its implications. 
Here are the highlights of the debate: 
# This is a victory of Muslim women who have fought for their rights, this is not BJP's victory: Rahila Parveen
# I want a promise that the BJP will not make it a political issue in the 2019 elections: Maulana Sajid Rashidi to Sambit Patra
# The journey from Shah Bano to Shayra Bano has seen a lot of changes: Sambit Patra, BJP spokesperson
# With this decision, Muslim women have got rid of the fear of inequality and inhuman treatment: Asad Khan Falahi
# We will tell our clerics to find the right way for divorce: Asaduddin Owaisi 
# What if a Muslim woman asks for instant divorce, what will be the solution: Asaduddin Owaisi, AIMIM President
# Zafar Sareshwala reiterates the need of introduction of punishment of at least 10 years and half the wealth. 
# The top court's decision is a big step. If there is requirement of a more stringent law in future, then it will be considered: Mukhtar Abbas Naqvi
# The court has now said that Muslims will not go in line with Shariyat laws: Dr Tasleem Ahmed Rehmani
# Now Mulsim women, like all other women, will get the constitutionla rights: Mukhtar Abbas Naqvi 
# The fight of Muslim women has turned fruitful today. This is nation's victory not religious or political victory: Mukhtar Abbas Naqvi  
# The Supreme Court decision is capable enough to ensure justice to Muslim women: Mukhtar Abbas Naqvi.
# When the court has declared triple talaq as unconstitutional, then it is already 'invalid': Mukhtar Abbas Naqvi (Minority Affairs Minister)
# Unless there is a law introduced against this, men will not be feared of giving the triple talaq: Hina, a triple talaq victim. 
# India's Muslim women are not that weak. If any man gives triple talaq to a woman in future, we women will ouselves punish him and beat him: Mehrunnisa, a victim of triple talaq.  
# Any Musliman man who gives talaq on phone on WhatsApp should be punished with imprisonment on at least 10 years and should give half of his wealth to the victim woman: Zafar Sareshwala
# If a Mulsim woman is given triple talaq, then the court is there to give the punsihment to the man: Dr Tasleem Ahmed Rahmani (President MPCI) 
# The minority decision by two judges is not applicable. Triple talaq has simply been declared 'invalid' so there is no question of introducing any law: Dr Tasleem Ahmed Rahmani (President MPCI) 
# This was a social evil. Our Constitution gives us right to equality. Suppressing women in the name of religion and culture is wrong: Shobha Ojha
# This is our social problem, we have mend it. The Supreme Court's decision is a wake-up call: Zafar Sareshwala
# AIMPLB doesn't want to implement the Quran's right way of divorce: Zafar Sareshwala
# Many problems will occur with the SC's decision. I consider triple talaq wrong but Shariyat's laws cannot be changed as its an integral part: Abdul Rehman Abid
# We didn't see it is a chance of win or loss, we stood for the rights of Muslim women: Shahnawaz Hussain. 
# Every religion has its own personal laws. Our government took the stand for Muslim women and filed the affidavit in the Supreme Court: Shahnawaz Hussain. 
# This is the victory of those who have taking a stand for the rights of Muslim women: Rahila Parveen (Socail Activist )
# I welcome the top court's decision. This is not the vectory of the government: Rahila Parveen (Socail Activist )
# Today is a historic day. The decision should not be related to any religion: Rahila Parveen (Socail Activist )
# Triple talaq has ended, its 'illegal' now, no need of any law: Shahnawaz Hussain
# No need of a law as the Supreme Court has already held triple talaq as 'unconstitutional': Shahnawaz Hussain
# Whay the government is always in so much hurry, whether it was in bringing the note ban or GST or triple talaq: Dr Faheem Baig, social activist 
# What if a Muslim man gives triple talaq during in these six months, what provisions does government has for this: Dr Faheem Baig, social activist 
# I am very happy that SC took an intitiave and barred the triple talaq, says Hina, a Triple talaq victim from Lucknow
# Women have been supressed in all religions. SC has given a historic verdict. Muslim women had to suffer a lot due to triple talaq: Shobha Ojha, (President Mahila Congress ) AICC LL
# Judges had full knowledge about Islam and Prophet. Quran is simplistic and open, doesn't need interpretation: Zafar Sareshwala, Chancellor, Maulana Azad National Urdu University  
# Triple talaq is void and illegal starting today. The BJP is not going to enact a law against the SC verdict like what Rajiv Gandhi did following the verdict in the Shah Bano case: BJP's Shahnawaz Hussain
# Dr Tasleem Ahmed: Welcome the Supreme Court's verdict. The verdict proves that the supremacy of Quran in practices in Islam