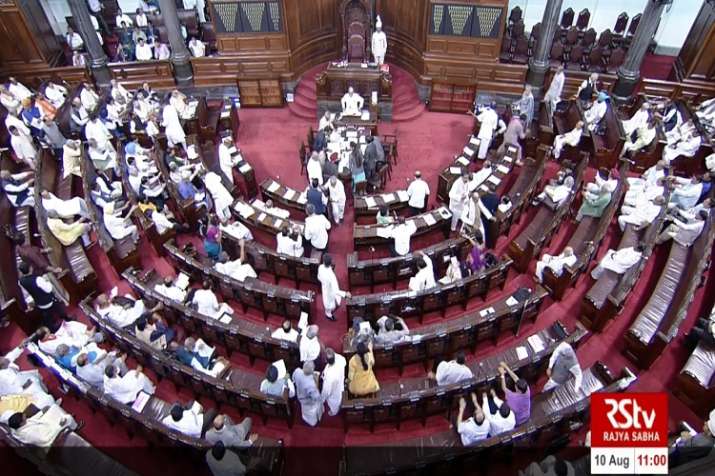 The much debated Triple Talaq Bill, which aims to criminalise instant divorce among Muslims, could not be tabled in Rajya Sabha on Friday as the Congress-led Opposition continued to insist on discussion on Rafale  fight jet deal first. However, it is not clear yet whether the bill has been deferred to Winter Session of Parliament or the Modi government will choose to bring an ordinance to push the law. 
Rajya Sabha Chairman Venkaiah Naidu told the Upper House of Parliament that the Muslim Women Protection of Rights on Marriage Bill could not be tabled as there was a lack of consensus between the Government and Opposition over it. 
The House witnessed repeated adjournments throughout the day as the Congress relentlessly objected to the government's efforts to table the bill on the last day of Monsoon Session and demanded that it should first come out clean over the Rafale jet deal with France. The Congress demanded that the aircraft deal matter should be referred to a Joint Parliamentary Committee (JPC).
Newly-elected Deputy Chairman Harivansh had to adjourn the House till 2:30 pm amid sloganeering by Congress and other Opposition MPs. However, pandemonium continued in the House after the break forcing Chairman Venkaiah Naidu to announce that the Triple Talaq Bill will not be taken up today as there the Government and Opposition were not on the same page.
Earlier in the day, Opposition leaders, including UPA chairperson Sonia Gandhi, held protest outside the Parliament against the Government demanding answers over Rafale deal, agrarian crisis and others.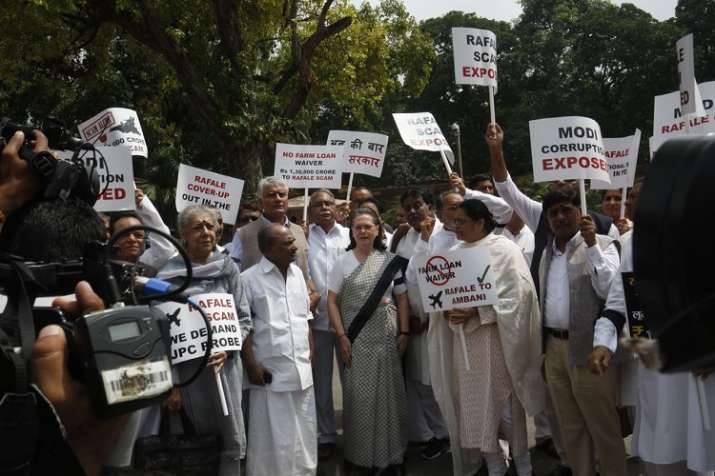 Leader of Opposition in the upper House Ghulam Nabi Azad said that the Rafale deal with France was the "biggest scam" and it should be discussed in the House.
He said that by shortening Parliament sessions, the government was denying the opposition the chance to put up crucial issues in an effective manner.
"The opposition has only this one platform where it is face to face with the government and can raise issues. Therefore, Parliament sessions should be longer," Azad said.
Minister of State for Parliamentary Affairs Vijay Goel said that Parliament was a place to raise issues of public importance and not to level "baseless allegations".
WATCH: Triple Talaq Bill hits Congres hurdle again