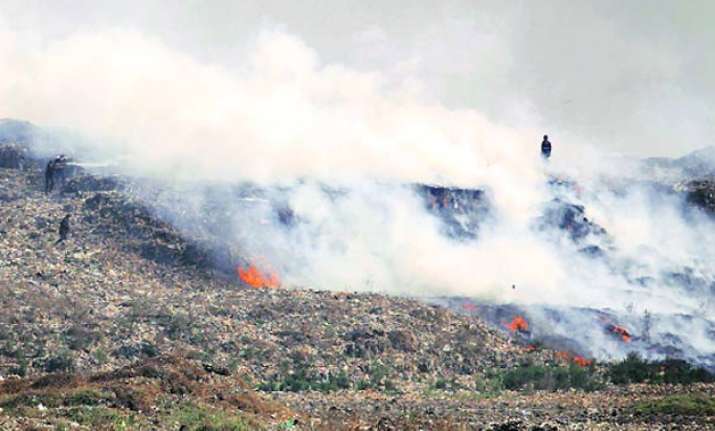 Mumbai: People living in Mumbai are now complaining of discomfort due to the fumes emanating from the Deonar dumping ground, where a fire broke out on Saturday evening. Locals staying in the vicinity said that they witnessed fresh smoke this morning from the site even as the disaster control department continues to douse the fire.
Eleven fire tenders and eight water tankers have been deployed at the dumpsite located in the eastern suburbs of the city, said officials of the disaster control unit of the Municipal Corporation of Greater Mumbai.
Even as cooling operations are underway at the Deonar dumping yard, toxic smoke engulfed Govandi's Shivaji Nagar, some parts of Mankhurd and Zakir Hussain Nagar and Baiganwadi area, causing discomfort to locals.
Brihanmumbai Municipal Corporation (BMC) had been forced to shut down 74 schools run by it as smoke from the fire then engulfed the area, causing breathing problems.
The schools were located in the M-ward, where people are complaining about a foul smell due to the burning of garbage at the dumping ground. Schools in M-ward, including those in Chembur, Deonar, Tilak Nagar, Pestom Sagar, Shivaji Nagar, Mankhurd and Baiganwadi, were closed for two days.
This is the second big blaze in the area in less than two months. A massive fire had broken out at the dumping yard, spread over 326 acres, on January 27, leading to a thick blanket of smog in various parts of Mumbai.
Chief Minister Devendra Fadnavis had ordered a probe into the fire and smog at Deonar by a panel headed by a senior IPS officer. He had also directed that the sabotage angle be investigated in connection with the fire.
In an interaction with Chembur residents over the smog last month, he had said that methane release was an issue and a committee under Ramesh Kumar, NEERI and IIT has been asked to study and suggest measures.
Deonar is one of the biggest dumping grounds in Mumbai and the quantity of garbage ending up there has only increased down the years.
With PTI Inputs