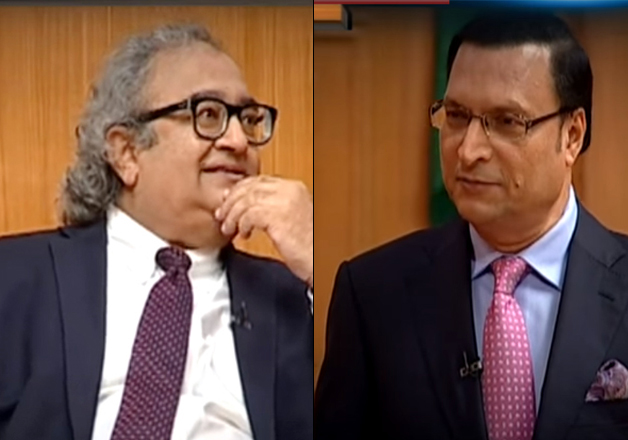 Pakistan-born author Tarek Fatah was recently seen responding to questions by India TV Editor-in-Chief Rajat Sharma on his show Aap Ki Adalat.
Fatah, who is based out of Canada, came down hard on his own country for spreading terrorism all around. He did not mince his words as he was in no mood of leniency towards Pakistan.
Here are the top 10 quotes by Tarak Fatah on Aap Ki Adalat that made for the highlights of the show:
1. Here, we are dealing with a bunch of thieves (army), who have decided not to carry out a coup, and informally take over the reins of power. In Pakistan, coup is the de facto state of affairs.
2. The mayor of the world's 8th biggest city Karachi is in jail for the last three months, and nearly 200 young men are missing because of Army action, but the Indian media has not highlighted this. Can you imagine Arvind Kejriwal being jailed for 2 months in Delhi and people not knowing about it?
3. India has not attacked Pakistan, it has only attacked terror camps in the territory that has been occupied by Pakistan for the last 70 years.
4. India should have moved forward after winning the Kargil war, but as a professional army, it stopped after teaching Pakistan a lesson. However, Pakistan is never going to learn a lesson, because the very creation of that country was on the basis of lies and hatred.
5. Pakistan is an acronym, it is not a country in itself, it is only a mindset. Afghanistan belongs to Afghans, Bangladesh belongs to Bengalis, Kazakhstan belongs to Kazakhs, who belongs to Pakistan? Pakistan was a joke played on all of us.
6. One is a sharif (Nawaz), who runs factories, eats biryani, watches cricket, was brought to politics by Gen Zia ul Haq, who has amassed all the wealth of Pakistan and invested in a single province, Punjab, and the other Sharif (army chief) is a crook (badmaash), who summons his Prime Minister whenever he wants.
7. Pakistan Defence Minister Khawaja Asif is an illiterate. Does he know the meaning of tactical weapons? These weapons have a range of only 20 kilometres. Either he does not know this or it is our misfortune that we have such a lunatic asylum in our neighbourhood. No country in the world has tactical nuclear weapons except these rascals. If Indian army enters Pakistan, these people will bomb their own country by using tactical weapons. It seems to be a death cult that has been indoctrinated in the Pakistani Punjabi mind.
8. Muslims in India are fortunate to be living in a country where they can breathe freely and they should believe in "Islam of Allah, and not in Islam of Mullah".
9. Imran Khan should carry on with his dalliances with women, play cricket, and should not delve into serious matters. This stupid man spent his entire life trying to impress women, especially Indian. He has no shame. He rode a horse as a bridegroom at the age of 62, and then his wife filed for divorce. He is a Punjabi posing as a Pathan, like Musharraf of Delhi trying to pose as a Punjabi. This is all nonsense. These people suffer from identity crisis."
10. Hafiz Saeed is the "real Prime Minister of Pakistan" and Hizbul Mujahideen chief Syed Salahuddin is the "real Defence Minister of Pakistan".