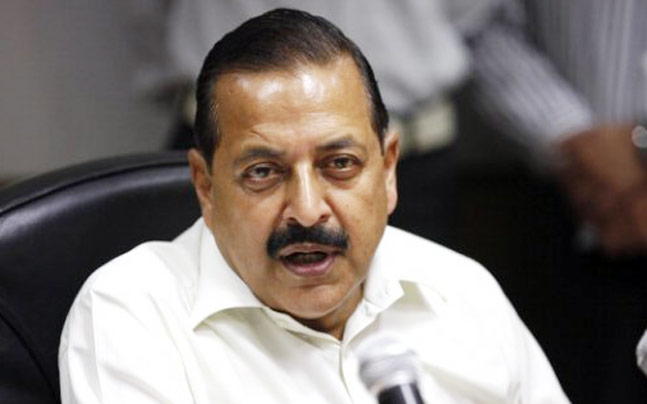 Union Minister Jitendra Singh on Thursday said the time has come to change the narrative on Kashmir and to declare that there is no issue except to retrieve the Pakistan Occupied Kashmir (PoK).
Addressing a seminar on 'Kargil Vijay Diwas' in New Delhi, the minister said time has come to unmask the Kashmir "apologists" within India who are responsible for emboldening Pakistan's anti-India designs.
Singh came down heavily on the Kashmir-centric politicians both from the so-called separatists lobby as well as from the so-called mainstream, and said, their politics was based more on convenience and less on conviction, according to an official statement.
They were guided not by any ideology, he said, but by their respective political agendas.
"That is why, when in power, they speak a different language, but when out of power, they turn to separatist jargon, which goes to the advantage of Pakistan and its sympathizers in India," the statement quoted him as having said.
It has become a trend among certain sections of polity in India to refer to Pakistan in apologetic terms, simply to exploit the sentiments of their domestic constituency, without realizing that this, in turn, only helps in emboldening and encouraging the Pakistan's designs, said Singh, Minister of State in the Prime Minister's Office (PMO).
He said that the time has come to change the narrative on Kashmir, to declare that there is no issue as far as Kashmir is concerned except to retrieve the PoK and, at the same time, reach out to the common youth of Kashmir Valley who are ready to move on and be a part of India's development journey.
Singh said the partition of Indian subcontinent was the biggest mistake in recent history and after independence, this got compounded by another blunder on the part of the then Prime Minister Jawaharlal Nehru.
Nehru did not allow the then Home Minister and his cabinet colleague Sardar Patel to handle Jammu & Kashmir with the same freedom and discretion as Patel was handling over 500 other princely states of India, the statement said.
"Later,Nehru's decision to take Kashmir issue to UN left a bad legacy," he said.
The minister was also critical of the decision to return over 90,000 Prisoners of War (PoWs) from Pakistan following the 1971 war.
He said, the then Prime Minister Indira Gandhi had invested too much trust in her Pakistan counterpart Zulfikar Ali Bhutto, never realizing that the political authority in Islamabad was never in complete control of the decision making process, particularly vis-a-vis India.
The rest, he said, is history with Zia-ul-Haq taking over the reins in Pakistan and laying the foundation of a long drawn road map of a proxy war with India based on his "thousand cuts" theory.
Having lost the conventional wars in 1947, 1965, 1971 and 1999, he said, Pakistan continues to wage an unending proxy war by exporting terrorism into the Indian territory, the statement said.
Kargil warriors Lt Gen Vinod Bhatia, Col K K Sharma and Convener of J&K People's Forum Mahinder Mehta also spoke on the occasion.
(With PTI inputs)