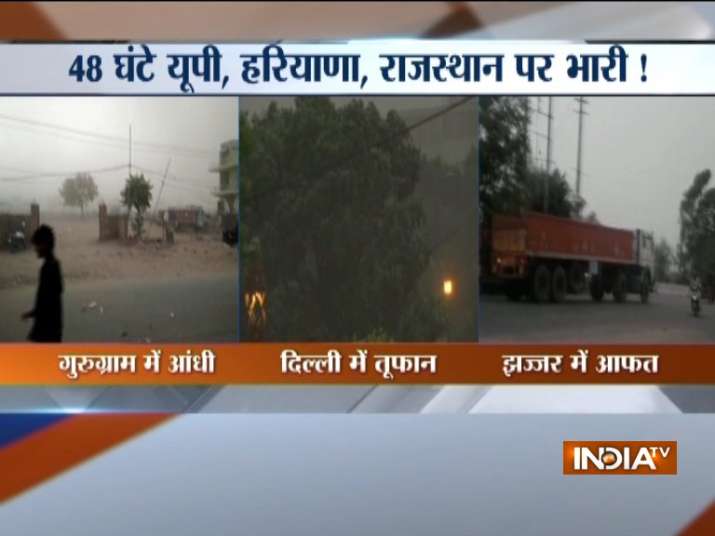 India Meteorological Department has issued a fresh warning on thunderstorm, strong winds and hailstorm for next three days in parts of North India, including Delhi NCR. 
Senior Met official Dr K Sathidevi said that the weather anomalies might affect parts of Himachal Pradesh, Punjab, Haryana, UP, Rajasthan, Delhi and Jammu and Kashmir. Yesterday IMD had issued an alert for a thunderstorm, accompanied by a squall at isolated places over West Bengal and Odisha, expected today. 
National Disaster Management Authority (NDMA) has released a list of do's and don'ts to prepare before, during and after thunderstorms, dust storms or squalls. (Click here to read more)
Also read | Thunderstorm alert: IMD issues fresh warning for North India, strong winds and hailstorm expected for next three days
As it Happened: 
08:52 pm: 
Heavy rain lashed parts of Hyderabad this evening. India Meteorological Dept says, 'Light to moderate rainfall expected at few places in Telangana in next 2-3 days. Thunderstorm expected for the next 48 hours at some places in the state' pic.twitter.com/WLfTBR7g5q

— ANI (@ANI) May 17, 2018
07:20 pm: 
#WATCH: Dust storm & strong winds lash parts of Delhi, visuals from Vijay Chowk area. pic.twitter.com/8qAUoNEYq1

— ANI (@ANI) May 17, 2018
07:11 pm: 
#WATCH: Dust storm & strong winds lash parts of Delhi, visuals from Raj Ghat. pic.twitter.com/p3c7ekIB3f

— ANI (@ANI) May 17, 2018
07:08 pm: Do's and Don'ts during thunderstorms, dust storms or squalls:
1.  Keep a watch on local weather updates and warnings; 2. Stay indoors and off verandas and porches. Avoid all travel if possible; 3. Unplug unnecessary electrical equipment (to isolate them from the main power supply which may conduct a power surge during a lightning storm). Don't use corded telephones. Mobiles or cordless phones are safe; 4. Avoid touching plumbing and electrical pipes. Do not use running water. Avoid taking a bath/shower. This is because lightning can travel along pipes; 5. Stay away from structures with tin roofs/metal sheeting; 6. Keep away from doors, windows, fireplaces, bath tubs, or any electrical charge conductors; 7. Don't take shelter near/under trees; 8. Stay put if you are inside a car/bus/covered vehicle; 9. Don't use metallic objects, stay away from power/telephone lines; 10. Get out of the water - pools, lakes, small boats - and take shelter immediately
06:43 pm: Dust storm begins in parts of national capital; IMD predicts squall, hailstorm in next few hours
06:20 pm: Do's and Don'ts for pre-disaster preparation for thunderstorms, dust storms or squalls: 1. Prepare an emergency kit for safety and survival; 2. Keep your windows and doors closed; 3. Secure your house, carry out repairs in advance, don't leave sharp objects loose; 4. Secure outside objects that could blow away and cause damage, eg: Furniture, bins, etc; 5. Get rid of rotting trunks/broken tree branches that could fall and cause injury or damage; 6. Monitor radio, TV, newspapers to get latest weather updates and warnings; 7. Ensure children and pets are indoors
06:10 pm: Dust storm coupled with rain starts in Rajasthan's Jhajhar. 
06:07 pm: Darkness descends on Haryana's Rohtak as thick clouds cover skies. 
05:55 pm: Several trees reportedly uprooted in Jhajhar, Rajasthan 
05:00 pm: Met department issues weather warning for five districts in Uttar Pradesh - Rampur, Moradabad, Bijnoir, Saharanpur and Muzzafarnagar. The alert is till 8:30 am tomorrow. The weather department has also issued an alert from May 18 8:30 am to May 19 8:30 am for Kushinagar, Mahrajganj, Siddarthnagar and nearby areas for the dust storm.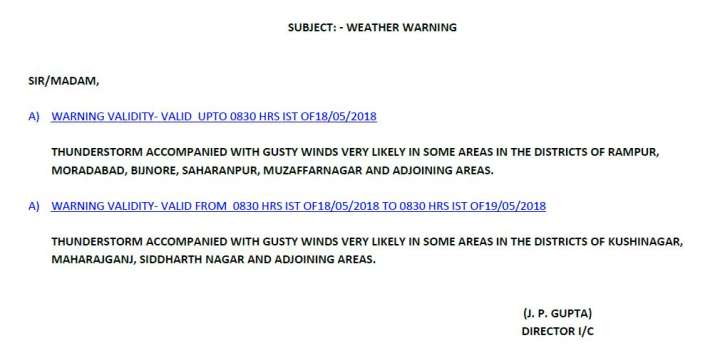 04:45 pm: In its Wednesday's advisory, the IMD had cautioned against a thunderstorm, accompanied by gusty winds, at isolated places over Assam, Meghalaya, Nagaland, Manipur, Mizoram, Tripura, sub-Himalayan West Bengal, Sikkim, Jharkhand, Bihar, eastern Uttar Pradesh, Haryana, Chandigarh, Delhi, Punjab, Himachal Pradesh, Jammu and Kashmir, coastal Andhra Pradesh, interior Karnataka, Tamil Nadu, Kerala and Lakshadweep.
04:30 pm: There was a western disturbance over north Pakistan and Afghanistan and a cyclonic circulation over southeast Rajasthan and the western parts of Madhya Pradesh, it said, adding that a thunderstorm and a dust-storm were "very likely" in Rajasthan.
04:00 pm: "Heatwave conditions very likely over some parts of West Rajasthan and in one or two pockets of East Rajasthan. Heavy rain at isolated places over Nagaland, Manipur, Mizoram, Tripura, Kerala and Lakshadweep," the advisory said.
Watch video: