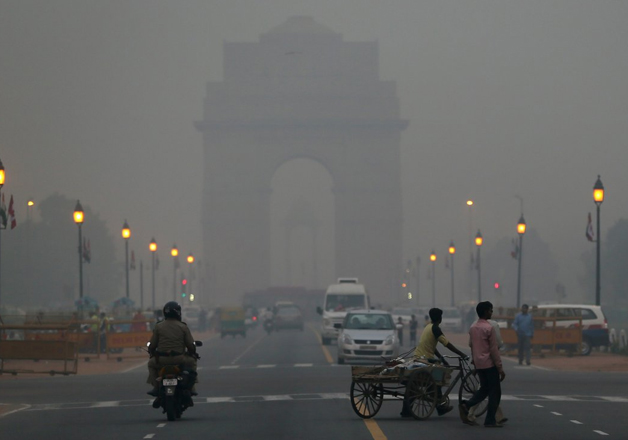 Delhi's overall air quality remained 'severe' and morning was marked with low visibility even three days after Diwali festivities.
The reasons for this degradation have been attributed to smoke due to firecrackers and negligible wind speed to disperse the pollutants. 
According to System of Air Quality Weather Forecasting and Research (SAFAR), the air quality index in Delhi toady touched the 500 mark, marked severe. 
"The wind speed is zero, so is vertical wind speed. And the bursting of cracker, apart from vehicle pollution and that from power plants added to it," Vivek Chattopadhyay a member of Centre for Science and Environment (CSE) said.
The next three days is forecast to be just as severe in the national capital, SAFAR added.
Mumbai, however, showed a 'good to moderate' an air quality index, well under 200. 
Meanwhile, the Delhi government has announced a raft of measures to curb the rising the level of air pollution in the city. 
Vacuum cleaning and sprinkling of water on arterial roads, cutting dust from construction sites and prohibiting burning of leaves are among measures that will be put in practice to check the level of pollution in next few days.
After a lengthy meeting with concerned departments on Tuesday, Deputy CM Manish Sisodia also said government has drawn up a roadmap to tackle air pollution under which emission control device to cut toxic pollutants at the landfill sites as well as in crematoriums will also be installed.
Figures recorded by air quality monitoring agencies showed that bursting of crackers in large quantities on Diwali night (October 30) took the Air Quality Index (AQI) in Delhi and surrounding areas to a 'severe' level.
A thick layer of smog covered several parts of the National Capital Region (NCR), which affected visibility as well. Experts termed this year's pollution more hazardous owing to adverse factors, like slow wind speed and moisture in the air, which actually obstruct dispersion of suspended pollutants.