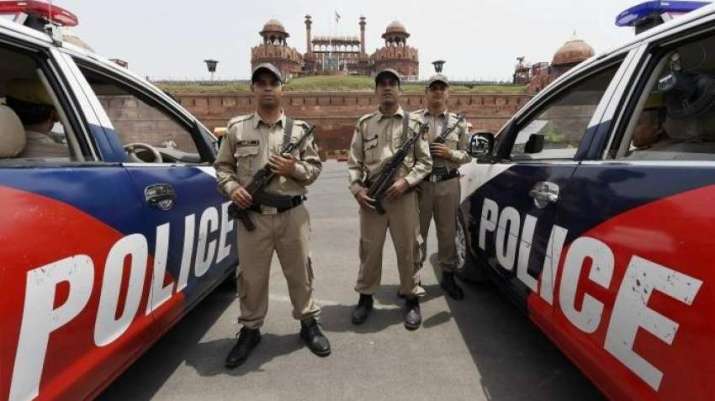 Three terrorists belonging to Islamic State of Jammu and Kashmir (ISJK) were arrested from Srinagar on Sunday in a joint operation by Jammu and Kashmir Police and Delhi Police.
Weapons and explosives were also recovered from the three arrested terrorists. After receiving related inputs, Special Cell of the Delhi Police and Srinagar police swung into action and defused a big terror conspiracy in the making. 
The terrorists have been identified as Tahir Ali Khan, Haris Muhtaq Khan and Asif Suhail Nadaf.
"They were arrested from Srinagar's Kothi Bagh area on a specific input. Police teams on Saturday intercepted their bike near Tourism Reception Center. The accused tried to lob a grenade at the police party," Deputy Commissioner of Police P.S. Kushwah said, adding that two loaded pistols, three grenades, four mobiles and ISIS black flags were recovered from their possession.
"During investigation, the police found that Haris Mushtaq Khan, Tahir Ali Khan and Asif Suhail Nadaf were in touch with some of their accomplices in Delhi for obtaining weapons. They worked for one Aadil Thokar currently in Jammu and Kashmir," Kushwah said.
"They all belong to the ISIS-inspired module and wanted to strengthen their unit in their home state and Delhi for extending their activities. The Srinagar police is interrogating them to get more information out of them," the DCP said.
"On September 6, the Delhi Police had arrested their two accomplices -- Parvaiz Rashid Lone and Jamsheed Zahoor Paul -- from the Red Fort area in old Delhi. They had come to get illegal arms from their contacts," he said.
The accused, along with the other accomplices, had in July this year indulged in a grenade attack at CRPF personnel on guard duty in Anantnag district of Jammu and Kashmir. They had also killed a Sub-Inspector in Kashmir in November 2017, according to the officer.
"They also killed a civilian, Ahad Ahmed, in September this year on suspicion of him being a police informer," he added.
Earlier on Wednesday, Delhi Police had issued a terror alert with a photo of two suspected militants believed to be hiding in the national capital. The photo showed two bearded men wearing dark-coloured kurtas. The men were seen posing next to a milestone which states 'Delhi 360 km, Ferozepur 9 km'. Ferozepur in Punjab is close to India-Pakistan border. It appeared that the photo was clicked at some border check point as Pakistani flags could be seen in the background. 
Watch: Three terrorists arrested by Delhi Police