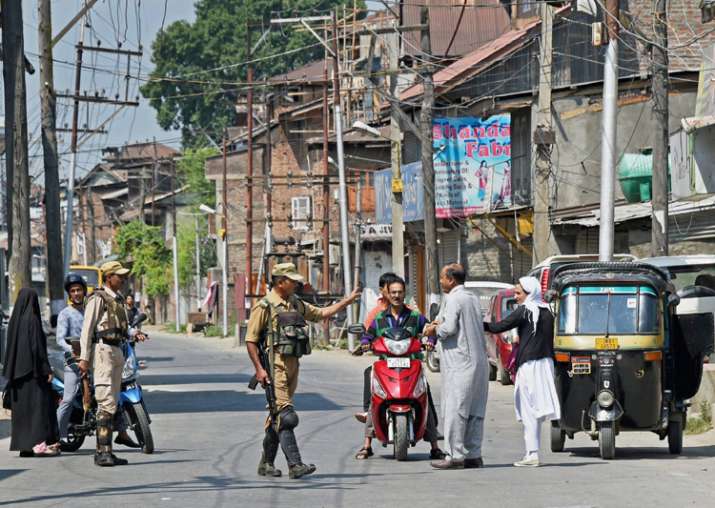 A Delhi court today sent seven Kashmiri separatists, including Altaf Ahmed Shah, son-in-law of Hurriyat leader Syed Ali Shah Geelani, to ten days National Investigation Agency (NIA) custody in connection with its terror funding probe and subversive activities in the Kashmir.
The seven separatist leaders were brought to Delhi after their arrest by the NIA yesterday. They were produced before a court here today.
District Judge Poonam A Bamba passed the remand order while partly allowing the NIA's plea which had sought the custody of the accused, arrested yesterday, for 18 days. Advocate Rajat Kumar, appearing for the accused, however, opposed the agency' plea saying that the NIA has already been probing the case for one month.
Shah, popularly known as Altaf Fantoosh, was in the custody of the Jammu and Kashmir Police, who had put him in preventive detention earlier this month. Besides him, Geelani's close aides Ayaz Akbar, who is also spokesman of Tehreek-e-Hurriyat – a hardline separatist organisation – and Peer Saifullah were arrested by the NIA from the Valley.
The NIA also arrested Shahid-ul-Islam, spokesman of the moderate Hurriyat Conference led by Mirwaiz Umer Farooq. The others arrested are Mehrajuddin Kalwal and Nayeem Khan (of the Hurriyat's Geelani faction) and Farooq Ahmed Dar alias 'Bitta Karate'. 
The houses of those arrested had been raided by NIA sleuths last month. The raids were part of the NIA's efforts in clamping down on separatist groups allegedly receiving funds for subversive activities in the Valley. 
The NIA had on May 30 registered a case against the separatist and secessionist leaders, including members of the Hurriyat Conference, who have been acting in connivance with active militants of proscribed terrorist organisations Hizbul, Dukhtaran-e-Millat, Lashkar-e-Toiba (LeT) and other outfits and gangs.
The case was registered for raising, receiving and collecting funds through various illegal means, including hawala, for funding separatist and terrorist activities in Jammu and Kashmir and for causing disruption in Kashmir by way of pelting stones on the security forces, burning schools, damaging public property and waging war against India.
In pursuance of this case, the NIA had conducted widespread searches on the suspected persons in Jammu and Kashmir, Delhi and Haryana and incriminating documents, electronic devices, cash and other valuables worth crore of rupees were unearthed. For the first time since the rise of militancy in Kashmir in the early 1990s, a central probe agency had carried out raids in connection with the funding of separatists. In 2002, the Income Tax department had raided the establishments of some separatist leaders, including Geelani, and seized cash and documents. 
Meanwhile, state authorities today imposed restrictions in parts of Srinagar to prevent separatist-called protests against the arrest made by NIA.