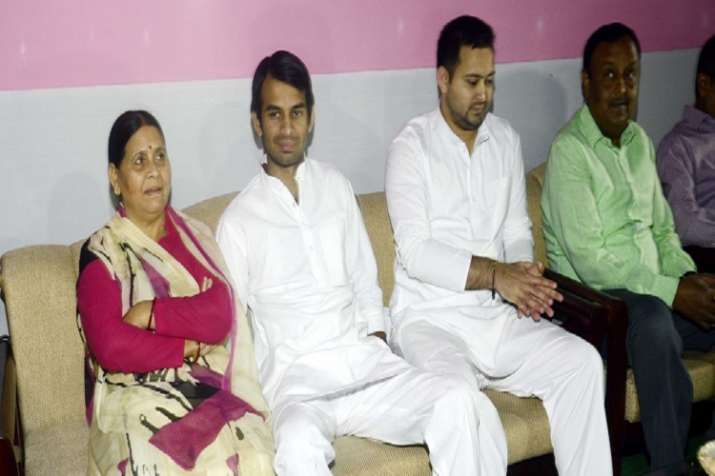 Hours after a post on his Facebook page targeted his mother and former  Chief Minister of Bihar Rabri Devi, Rashtriya Janata Dal (RJD) leader and the eldest son of party supremo Lalu Prasad Yadav, Tej Pratap Yadav has alleged that his Facebook account has been hacked.
Speaking to media, Tej Pratap alleged that his Facebook profile was hacked by the members of the Bharatiya Janata Party (BJP) and Rashtriya Swayamsevak Sangh (RSS). He also asserted that there were no differences in the Yadav family.
Tej also lashed out at Bihar Chief Minister Nitish Kumar for plotting against him and his party. In his Facebook post he wrote; "Friends, today again uncle - Nitish Kumar - along with BJP tried to break us. Today evening my Facebook ID was hacked and one post was done in an attempt to break our family. Listen looters of mandate, my family is my life, my brother is my strength, a piece of my heart".
The rebuttal from Tej Pratap comes after in a post on his Facebook account stated that he was told by people in his constituency that RJD leaders Om Prakash Yadav and MLC Subodh Kumar Rai were trying to harm his reputation by referring to him as 'pagal' and 'sanki' (mentally disturbed). However, when he raised the issue with both Lalu and Rabri, his mother scolded him instead of acting against the two RJD leaders.
The post also stated that Om Prakash and Subodh referred to Tej as 'Joru ka Ghulam' (slave of his wife). 
However, the post was deleted within half an hour, and Tej made two new posts, claiming that his account was hacked by BJP- RSS. "The IT (information technology) cell of RSS- BJP hacked my Facebook account and tried to defame my family. Wrong things were written about me and my mother. Earlier also, my father's page was hacked by an RSS supporter and he was jailed for many days for it. Opposition is jittery by our impact and stooped to lowest level of politics."
Tej Pratap also took a dig at Prime Minister Narendra Modi on the lines of PM's Chai Pe Charcha. Flashing his rustic wit, Tej Pratap said; "How can PM Modi be fortunate enough to get tea for  'Chai Pe Charcha'? We will not give him milk... He will have a hard time making tea".
Earlier in June, Tej had triggered a row by saying that some senior leaders in the party were sidelining him. In reply, he had posted a tweet, making reference to the epic tale of Mahabharata, saying that he was contemplating giving the throne to his younger brother Tejashwi Yadav, whom he often refers to as 'Arjun'.