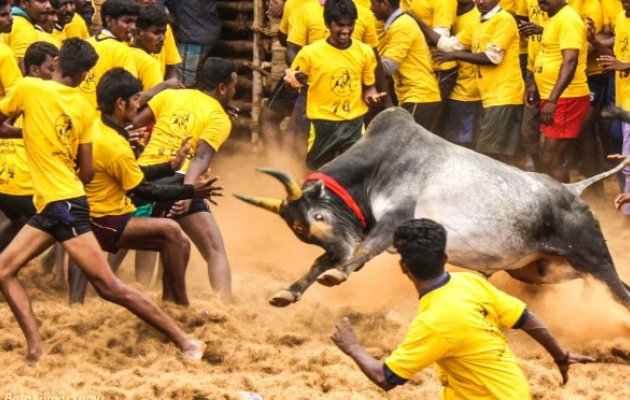 Following last year's state-wide protests to ban Jallikattu in Tamil Nadu, the event is being organised in Madurai today on the occasion of Pongal. 
The event, for which 1000 bulls and 1000 tamers were registered on Saturday, is being held at Avaniapuram. The town is hosting the event after a gap of three years. 
#WATCH: #Jallikattu event organized in Tamil Nadu's Madurai pic.twitter.com/s9HWo2LXIH

— ANI (@ANI) January 14, 2018
Out of 1000 registered bulls, only around 600 will participate as the timings for the event will be from 8am to 3pm on all three days.
Collector K. Veera Raghava Rao, who inspected the venue on Saturday evening, said all arrangements were made as per the Tamil Nadu Prevention of Cruelty to Animals (Conduct of Jallikattu) Rules of 2017.
For the first time, bulls will be checked for alcohol content in them.
The Madurai district administration which overlooks the event is all geared up to welcome thousands of people who take part in the bull taming event. As per the district administration, 50,000 to 1 lakh spectators are expected to witness the three-day event.
The event will be held in Palamedu and Allanganallur in Madurai district on January 15 and January 16 respectively.
Last year, there were massive protests forcing the Tamil Nadu government to pass an ordinance on Jallikattu. This time, the Animal welfare board of India urged the state government to comply with the new rules and regulations while conducting Jallikattu. The board also added that its aim is not to hurt cultural sentiments but to prevent cruelty to animals.