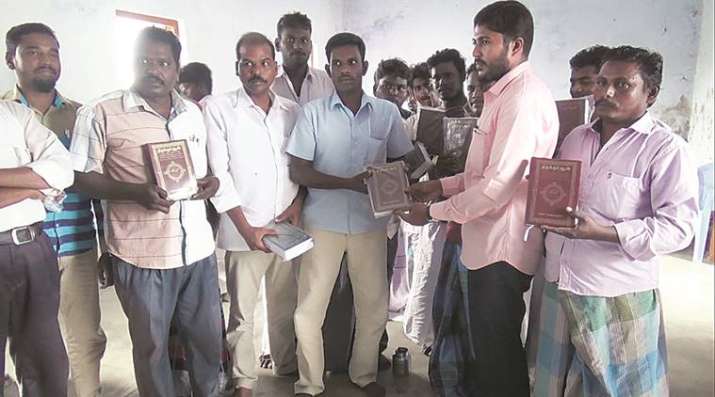 In signs of a never-ending rift between the Dalit community and the 'upper castes', 250 Hindu Dalit families in Tamil Nadu have threatened to convert to Islam after they were allegedly denied entry into a temple. 
The families, that belong to Tamil Nadu's small towns of Vedaranyam and Karur, alleged that they were denied entry into the Mahasakthi Mariamman Temple and were also stopped from participating in the Vederanyam temple, something which they said amounted to stripping them of their social rights.
Six families in Karur town have reportedly converted to Islam so far, whereas 50 others are planning to do so. 
"They are looking for a life with no discrimination. All that we are saying is that we will provide them a life of dignity and equality and one that will safeguard their human rights," said Abdul Rehman, the General Secretary of the Tamil Nadu Tauhid Jamaat. 
Ironically, the Sri Mahasakthi Mariamman temple, where the Dalits were allegedly denied entry, was built in 2009 by Dalits using funds from the Hindu Religious and Charitable Endowments Department of the Tamil Nadu government. 
"We are raising the complaint that Maha Sakthi Maria man temple was constructed with the help of our ancestors but today we are not allowed to take part in temple rituals. Nobody has come forward to help us, so we've decided to convert to Islam. Nobody forced us," Meena, one of those who converted to Islam, was quoted by India Today as saying.
While the Dalits stand firm in their decision to convert to Islam if they are not allowed to enter the temple, Caste Hindus want them stay away from the festivities. 
The Dalits also include some Caste Hindu families that had come to Tamil Nadu from Sri Lanka in the late 1970s. The Lankans are a mix of Caste Hindus and Dalits. 
The fiasco started when a few Caste Hindu Lankans allegedly wanted to organise a festival at the Sri Mahasakthi Mariamman temple keeping the Dalits away.  
Meanwhile, another 200 Dalit families in Pazhangallimedu village of Nagapattinam district have also complained of not being allowed to participate and conduct the annual Aadi festival at the Bhadrakali Amman temple, which is also believed to have been built by Dalits several years ago. 
In 1980s, similar mass conversions were seen in Meenakshipuram village near Thirunelveli when about 800 Hindu Dalit families converted to Islam.