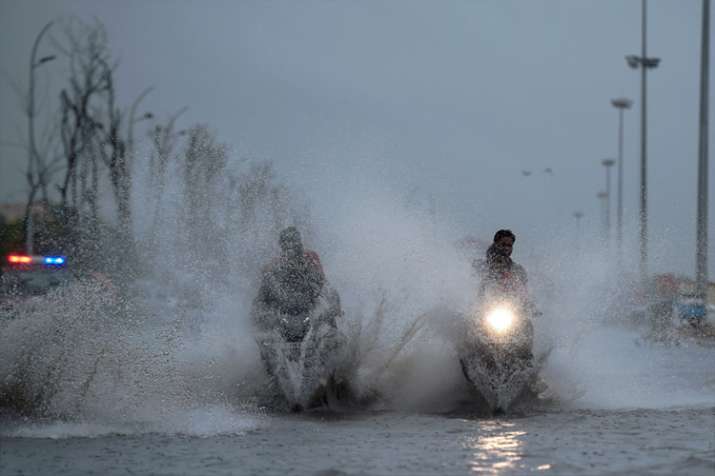 Heavy rains continued to lash parts of Tamil Nadu on Wednesday, leading to closure of schools and colleges for the second consecutive day, while two children were electrocuted in a rain-related mishap in Chennai. Authorities in Chennai, Tiruvallur and Kancheepuram districts have ordered schools to also remain shut on Thursday.
Two girls, aged 7 and 9 years, were electrocuted when they were playing near their homes at Kodungaiyur on Wednesday. With this, the toll in rain related incidents climbed to seven. Bhavna and Vijayshri, both eight years old, were electrocuted when they stepped on a power cable covered by stagnant rain water in RR Nagar. 
Another girl escaped after she jumped on a cement slab. The girls were playing near their home as the schools were closed because of the rains. 
Eight officials of the Electricity Board, including an Executive Engineer and an Assistant Engineer, were suspended for dereliction of duty, Electricity Minister S.P. Velumani told reporters. He also announced a solatium of Rs 2 lakh for the kin of the dead. 
A 5-member team of officials will conduct inspections in Chennai to ensure such incidents are not repeated, he said. 
Rains cause waterlogging, schools closed
The meteorological office said rainfall occurred in Chennai and at Kancheepuram and Tiruvallur districts, besides the Cauvery delta zone including Cuddalore and Nagapattinam, adding there could be overnight rains as well. 
Moderate to isolated brief heavy spells of rains brought more areas under sheets of water making commute difficult with severe traffic congestion in several areas. 
As rains continued to lash Chennai and suburbs, low lying areas especially in Mudichur and Selaiyur near Tambaram were marooned. 
With the resumption of rains, Mudichur which was already witnessing waterlogging became almost inundated and residents faced acute difficulty in venturing out. Residents started leaving for safer places as water entered their homes.
Several homes and retail outlets were shut in Mudichur which falls under Kancheepuram district, and roads wore a deserted look. Civic authorities said staffers were being deployed round-the-clock to drain out water from roads and subways. 
Mudichur was one of the worst hit areas in the 2015 floods.
Parts of Vyasarpadi, Perambur, Choolai and Otteri in North Chennai, West Anna Nagar in Central Chennai and Madipakkam and Keelkattalai in South Chennai were inundated. At the ESI hospital in Korattur, rain waters caused hardship to patients. 
Schools and colleges remained closed for a second day today in Chennai, Tiruvallur and Kancheepuram districts. It will remain closed (Thursday) also, officials said. 
Buses were delayed on several routes due to rains. 
Traffic snarls were seen at many locations and vehicles were diverted at some points to ease traffic situation. 
Trees that got uprooted in some locations were being cleared and Over 400 pumps were being used to clear the roads of water, they added. 
Districts including Thanjavur, Nagapattinam and Cuddalore experienced rains yesterday as well. There were brief spells of rain in Chennai and in several parts of Kancheepuram and Tiruvallur districts overnight. 
Followed by Ponneri, Cuddalore district recorded nine cm of rain for the 24-hour period ending 8.30 am Wednesday. 
Heavy rains forecast for today
The weather department has predicted rain or thundershowers at most places over coastal Tamil Nadu and Puducherry and at many places over interior Tamil Nadu for the next four days.
Intermittent heavy rains have been forecast for Chennai and neighbouring Kanchipuram and Tiruvallur districts for Thursday.
The Met department in a bulletin here said that rain or thundershowers are likely to occur at most places over coastal Tamil Nadu and Puducherry and at many places in interior Tamil Nadu on Thursday. 
The North East monsoon is active in Tamil Nadu and its neighbourhood, Director of the Area Cyclone Warning Centre, S Balachandran told reporters here. 
The upper air cyclonic circulation over the Gulf of Munnar is positioned over Sri Lanka and Southwest Bay of Bengal now and under its influence, in the next 24 hours many places in coastal districts and south Tamil Nadu will receive widespread rainfall. 
Barring western districts, interiors of the state will witness moderate showers, he said. 
Heavy to very heavy rainfall is likely at some places in coastal districts. 
As regards Chennai and neighbouring Kancheepuram and Tiruvallur, there would be intermittent rains and sometimes it could be heavy, he said.
(With agencies)