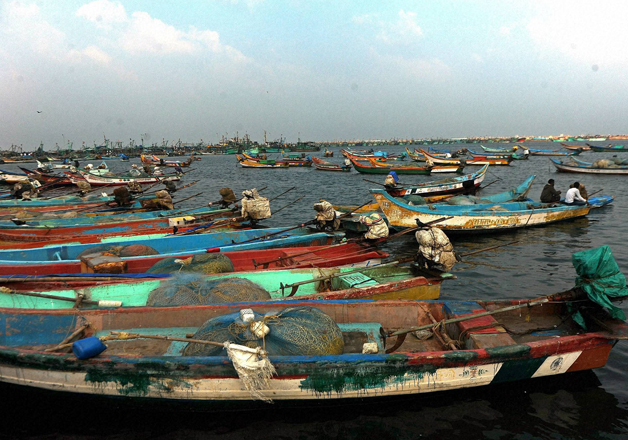 Cyclone Nada, which is heading towards Tamil Nadu and Puducherry in the Bay of Bengal, is weakening and may make landfall in small hours on Friday, according to Met Department.
The Met office said that the cyclone is about 350 km away from Chennai, which has been cloudy since morning with mild showers in some areas.
Rains, however, lashed several parts of the state influenced by cyclonic storm Nada.
The state government said that all precautionary measures have been taken by district administrations to handle any eventuality. 
IMD said that yesterday's depression over Bay of Bengal has intensified into cyclonic storm Nada and under its influence rains have begun in coastal, northern and some interior parts of Tamil Nadu. 
"All the 32 revenue districts including 13 coastal districts are being monitored continuously. The district administrations are fully prepared (to handle any eventuality)," Agricultural Production commissioner and Secretary, Gagandeep Singh Bedi said. 
State Revenue Minister RB Udaya Kumar said, "Be it heavy rains (which is expected) and gusty winds, all preparations are on." 
He said during heavy winds power lines will be needing more attention and the Tamil Nadu Generation and Distribution Corporation is fully prepared to tackle the situation. 
He said other preparations like setting up common kitchens to cater to the needs of people in relief centres and deployment of National Disaster Response Force and the State Disaster Response Fund teams were in place in coastal districts including Cuddalore, Nagapattinam and Chennai.
The Navy said that it has assumed high degree of readiness. Two naval ships, Shakti and Satpura are on standby with divers, doctors, inflatable rubber boats, helicopters and relief material.
The Met office has also predicted fog for the next three to four days in the state.
Teams of the National Disaster Response Force or NDRF have been posted in Cuddalore, which is about 20 km away from Puducherry. Both Tamil Nadu and Puducherry have been on alert since Wednesday and fishermen have been called in from the sea.
Also, schools have been closed in northern coastal districts Chennai, Nagapattinam and Cuddalore and in Puducherry for the next two days.