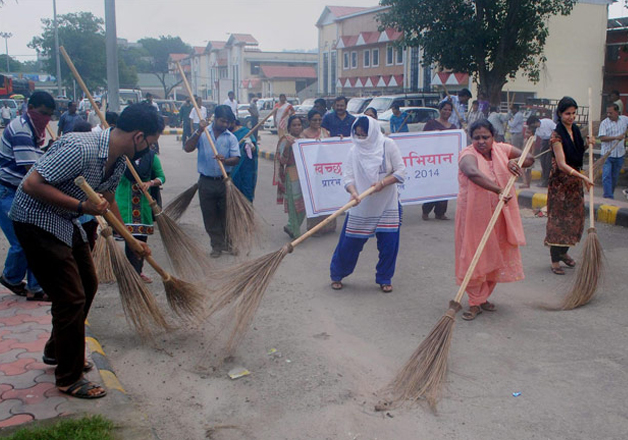 The Narendra Modi government may have invited huge praise for its 'Swachh Bharat Mission' from all over the world, but water and sanitation expert Gaurisankar Ghosh believes that it has failed to become a people's movement and has been reduced to merely a 'toilet counting programme'.
Speaking in Aurangabad on Tuesday at a workshop organised by UNICEF and Forum of Environmental Journalists in India, Ghosh termed the 'Clean India Mission' a 'lost opportunity' saying it has remained "just a government scheme".
To make it successful, Ghosh, the first mission director of the national drinking water mission, suggested that it can be more effective if other government programmes like Ganga Action Plan are integrated into the programme along with participation of people.
"Swachh Bharat Mission (SBM) gives an impression that it is a total sanitation... But it is a toilet counting programme in a new birth. Lots of people say sanitation was discovered in India two years ago but that is not true. The country's sanitation programme was developed in 1986 by the then Prime Minister Rajiv Gandhi and taking funds from different government programmes, a spree of building toilets was started," he said.
Ghosh, a retired IAS officer, was responsible for the global UNICEF operations during the period the first UNICEF water policy and strategy was prepared and even coining of the term WASH - water, sanitation and hygiene.
"It is very sadly an opportunity lost. I was very excited when the SBM was launched because the Prime Minister came out publicly and was sincerely committed to do something," Ghosh said.
Ghosh, who was Secretary, Drinking Water Supply, Gujarat and Chairman, Gujarat Water Supply & Sewerage Board, said SBM on its own will not be successful.
"There is no linkage between any of the programmes like SBM and Ganga action plan. No link between hygiene and school education programme, impact evaluation is missing and it failed to become a people's movement and remained a government programme," Ghosh, who was also the chairperson of UN Water, New York, said.
UNICEF Chief Field Officer Rajeshwari Chandrasekar said the workshop supports the flagship programmes of the government and works for health, nutrition and hygiene among newborns up to the age of 18 years in three phases.
On the occasion, Yusuf Kabir, WASH specialist, UNICEF, said community is major focus of the Swachh Bharat Mission and at present in Maharashtra, sanitation coverage of individual household latrine is 64 per cent on July 15.
The target is to make the state open defecation free by October 2, 2019, he added.
The Prime Minister had launched the Swachh Bharat Mission on 2nd October, 2014 to accelerate the efforts to achieve universal sanitation coverage.
The government has collected Rs 3,901.78 crore last fiscal from the 0.5 per cent Swachh Bharat cess which is imposed on all taxable services.
With PTI Inputs