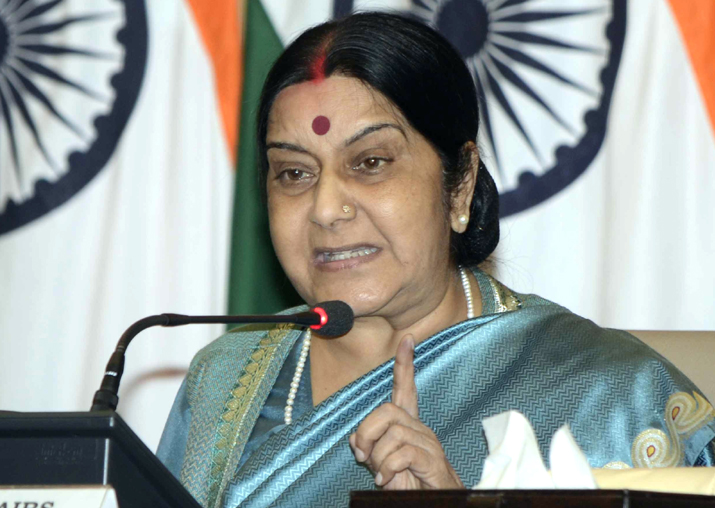 Despite deteriorating ties between India and Pakistan over various issues, New Delhi has once again extended a helping hand towards the common citizen of its neighbour with External Affairs Minister Sushma Swaraj granting visa to an ailing Pakistani child seeking open heart surgery here. 
Responding to a request by the girl's mother Nida Shoaib, Swaraj said that the Government of India has decided to provide medical visa to the teen.
"Yes, we are allowing visa for your 7-year-old daughter's open heart surgery in India," she tweeted. "We also pray for her early recovery."
The development is significant because Swaraj has one again fulfilled her Independence Day promise to grant medical visas to all bona fide Pakistani patients. In past too, Swaraj had on many occasions granted permission to Pakistani nationals to visit here for treatments. 
The Ministry had in Many announced that only a letter of recommendation by then Pakistan Foreign Affairs Advisor Sartaj Aziz will enable a Pakistani national to get a medical visa for India. The action was termed 'highly regrettable' by Islamabad, which said that asking for a letter from the Foreign Affairs Adviser was 'against diplomatic norms' and that such a requirement has not been prescribed for any other country.
Yes, we are allowing Visa for your 7 years old daughter's open heart surgery in India. We also pray for her early recovery. https://t.co/bFmUXriQCC

— Sushma Swaraj (@SushmaSwaraj) September 27, 2017
However, on July 18, a patient from PoK, seeking treatment in New Delhi for a liver tumour, was granted a visa. Swaraj had said that he needed no recommendation from the Pakistan government for a medical visa because the territory is an integral part of India.
After her Independence Day statement, Sushma Swaraj ensured the issuance of a medical visa for a Pakistani baby, Rohaan, who was in critical condition, later during the month.