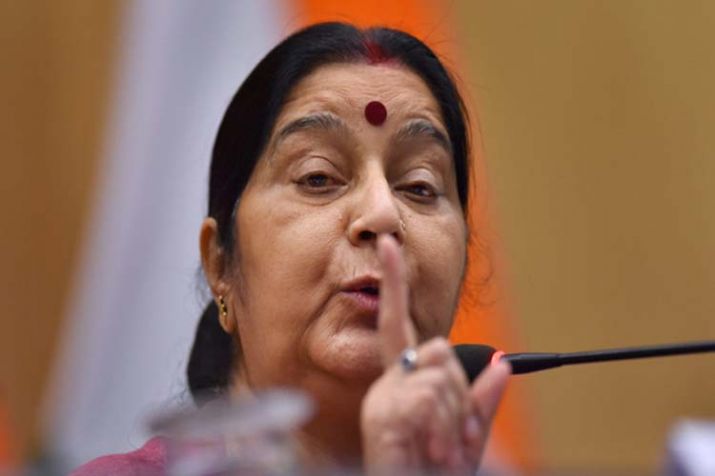 Former External Affairs Minister Sushma Swaraj edited her Twitter bio to remove her designation within an hour after swearing-in ceremony ended on Thursday. Sushma Swaraj did not take oath on Thursday even as PM Narendra Modi, Amit Shah and 54 others were sworn-in to be part of Modi government 2.0
Even as there is a possibility of cabinet expansion in the future, it is significant that Swaraj along with several former ministers were not included in the list of ministers who took oath along with PM Narendra Modi.
Earlier today, Swaraj was absent for tea at PM Modi's residence. Among the invitees were ministers who took oath today.
Swaraj, who was External Affairs Minister during the previous term of Modi government, did not contest the Lok Sabha elections this time, declaring that her health did not permit her to enter the fray and campaign.
During her tenure as the External Affairs Minister, she was very popular among the Indian diaspora and the compatriots stranded anywhere across the globe. Just one tweet to her about any problem any Indian faced anywhere and she would immediately swing into action and activate the Indian mission in those countries for help.
When the BJP was in Opposition during the UPA government from 2004 to 2014, Swaraj was the Leader of Opposition in the Lok Sabha and a successful one.
Later on Thursday, Sushma Swaraj tweeted her wishes to PM Narendra Modi and his government for its second tenure.
प्रधान मंत्री जी - आपने 5 वर्षों तक मुझे विदेश मंत्री के तौर पर देशवासियों और प्रवासी भारतीयों की सेवा करने का मौका दिया और पूरे कार्यकाल में व्यक्तिगत तौर पर भी बहुत सम्मान दिया. मैं आपके प्रति बहुत आभारी हूँ. हमारी सरकार बहुत यशस्विता से चले, प्रभु से मेरी यही प्रार्थना है.

— Sushma Swaraj (@SushmaSwaraj) May 30, 2019
(With inputs from IANS)
Also Read | Full list of ministers in Modi cabinet
Watch | Oath-taking ceremony: Narendra Modi, ministers sworn in at a grand ceremony (Part-1)