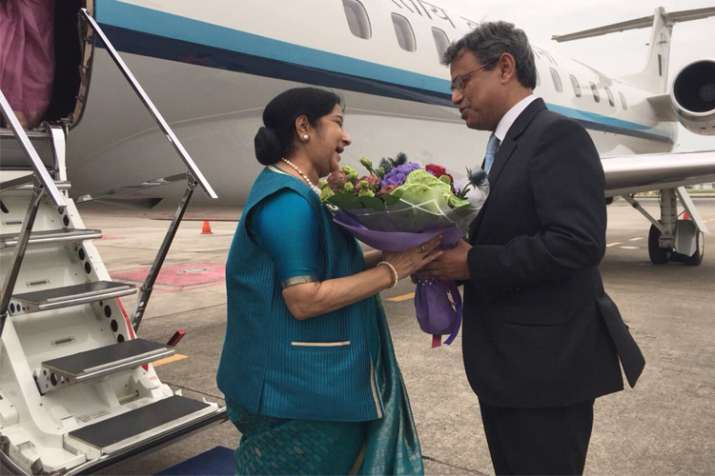 External affairs minister Sushma Swaraj arrived here today to inaugurate the Pravasi Bharatiya Divas (PBD) of the Association of Southeast Asian Nations (ASEAN) countries.
Swaraj will be holding bilateral meetings with the leaders in Singapore and interact with People of Indian Origin (PIO) delegations from ASEAN countries, who are participating in the PBD, the Ministry of External Affairs (MEA) said in a pre-departure statement. 
PIO delegations from all the ASEAN countries, including ministers, eminent personalities, business and socio-political leaders will be participating in the event, it added. 
The PBD of ASEAN countries has been themed 'Ancient Route, New Journey: Diaspora in the Dynamic ASEAN-India Partnership.' 
Yesterday, the minister inaugurated the 5th Round Table of Association of Southeast Asian Nations (ASEAN) India Network of Think Tanks in Indonesia. 
"The 5th Round Table meeting taking place at a very important juncture as in less than three weeks from now, India will host the ASEAN-India commemorative summit to mark the 25 years of India-ASEAN relations," Swaraj said, speaking at the inauguration.
"Therefore, the discussions are timely and opportunely. It will provide useful inputs to our leaders, when they will meet on 25th January in New Delhi for the summit," she added. 
The External Affairs Minister said it will be an honour and prestige for India to host all 10 ASEAN leaders as the guest of honours for the Republic Day. 
Swaraj, during her two-day visit to Indonesia, met with ASEAN Secretary General Dato Paduka Lim Jock Hoi in Jakarta. She also addressed the Indian community in the capital city. 
Earlier on Friday, India and Indonesia condemned all forms of terrorism at the 5th Joint Commission meeting between the foreign ministers of the two countries.