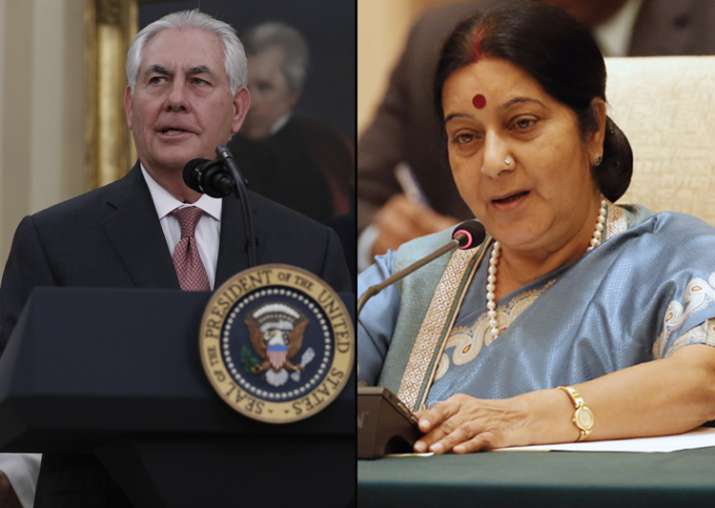 External Affairs Minister Sushma Swaraj and new US Secretary of State Rex Tillerson on Wednesday held their first telephonic conversation during which both leaders resolved to "further expand and deepen" India-US ties.
"The External Affairs Minister and Secretary Tillerson resolved to work together closely to further expand and deepen the multi-faceted strategic partnership between India and the US," the Ministry of External Affairs said in a statement here.
"They emphasized that close and strong relations between India and the US were not only in mutual interest but also had regional and global significance. In this context, they agreed to intensify cooperation in various sectors, including defence and security, energy, and economy" the ministry said.
The two leaders also agreed to follow-up the firm resolve expressed by Prime Minister Narendra Modi and President Donald Trump to cooperate closely in the global fight against terrorism, the MEA said tonight. 
Tillerson assumed office as the Secretary of State under the new Trump administration on February 1.
This was Swaraj's first telephonic conversation with 64-year-old Tillerson, who assumed office as the Secretary of State under the new Trump administration on February 1.
The conversation came amid wait and watch approach by New Delhi towards various policies to be adopted by the Trump administration in key areas including business. 
India has already raised concern over new bill on H1B visa. 
Silicon Valley-based Indian-American IT professionals feel that the new bill being introduced in the US Congress by the Trump administration would adversely affect the community. 
India is one of the top sources for international workers in the American tech industry, accounting for a major chunk of all H-1B visas. And any move by Trump, who has vowed to put an "America First" policy, will have an adverse impact in India.