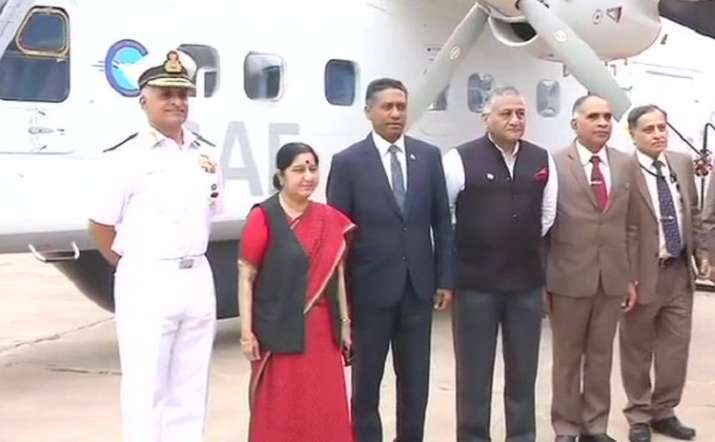 India on Tuesday handed over a Dornier aircraft to visiting Seychelles President Danny Faure at Palam Technical Area in Delhi. The ceremony was presided over External Affairs Minister Sushma Swaraj in the presence of MoS MEA General VK Singh. 
On behalf of the people of Seychelles and the government, I would like to say thank you to India. We will always be a faithful friend and partner to India. Long live our healthy relations, Danny Faure said after receiving the craft. 
On Monday, India revived a crucial agreement on naval base development on Seychelles' Assumption Island after a delegation-level bilateral talk between Prime Minister Narendra Modi and Seychelles President, who is on a six-day trip to India. 
After their comprehensive and "frank" discussions on key areas, including security, Modi also announced a USD 100-million line of credit to Seychelles, which, Faure said, would help boost his country's military infrastructure. 
"We have agreed to work together on the Assumption Island project based on each other's interests," Modi said at a joint press event with the visiting leader here.
India is keen on developing the Assumption Island in the Indian Ocean as a naval base to expand its footprint in the strategically-key region where China has been trying to enhance its military presence. An agreement to develop the island was inked in 2015 between India and Seychelles. 
However, there has been growing political opposition in Seychelles, forcing Faure to say that the country would develop military facilities at the island on its own and that the project with India "will not move forward". 
After his meeting with Modi, Faure said, "In the context of maritime security, the Assumption Island was discussed. We are equally engaged and will continue to work together bearing each other's interests in mind." 
The remarks assume significance as Faure, who faces domestic pressure over the issue, was quoted as saying by local media ahead of his visit that the joint project with New Delhi would not move forward. 
(With inputs from agencies)