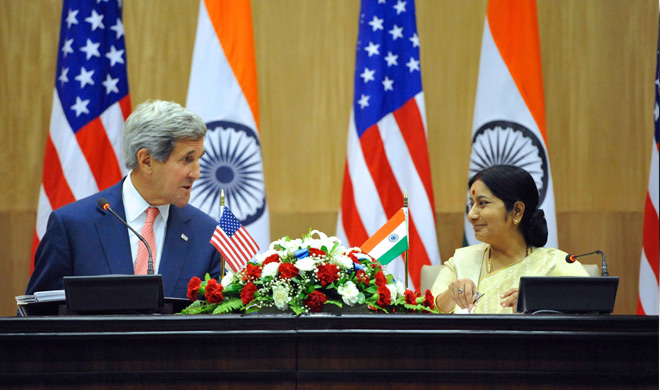 India's Foreign Minister Sushma Swaraj and her US counterpart John Kerry are all set to lead their respective delegations during the second India-US Strategic and Commercial Dialogue to be held in New Delhi today.
The dialogue is aimed at reviewing the progress on decision taken during the first meeting of this dialogue besides identifying new areas of cooperation between India and US.
India's Commerce Minister Nirmala Sitharaman and her US counterpart Penny Pritzker will co-chair both India-US Strategic and Commercial Dialogue as wells as India-US CEO Forum.
India-US CEO Forum has Tata Sons Chairman Cyrus Mistry and Honeywell Chairman Dave Cote as the co-chairs.
Calling the dialogue the most comprehensive mechanism for engagement between the two countries, India's External Affairs Ministry Spokesperson Vikas Swarup said the co-chairs will be also have an interaction with a high-level, inter-agency delegation from both sides.
Prime Minister Narendra Modi and US President Barack Obama had decided in 2015 to elevate the then India-US engagement into a Strategic and Commercial Dialogue, reflecting the significance of the trade and economic ties between the two sides.
(With IANS inputs)