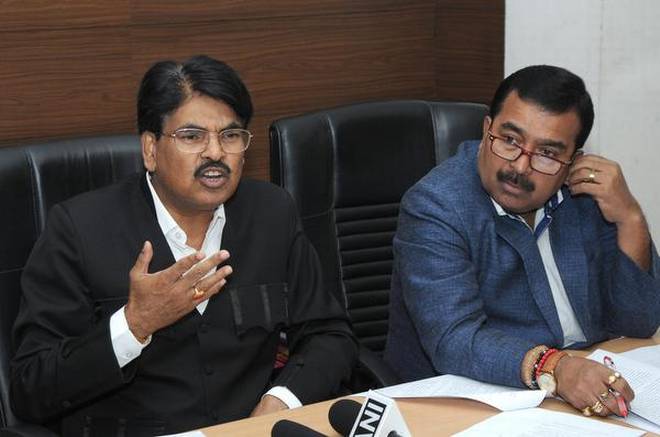 Bar Council of India on Monday confirmed that the 'internal matter' of the judiciary, pertaining to allegations made by four senior-most judges of the Supreme Court, has been amicably resolved. 
Addressing a press conference here, chairman of the Bar Council of India, Manan Mishra said that the dissenting judges and Chief Justice Dipak Misra have sorted out the issue within themselves. 
Informing that the matter has been laid to rest, Manan Mishra stated "It was an internal issue and now has been resolved". 
"Kahani khatam ho gaya (the story is now over)", BCI Chairman Manan Kumar Mishra told a press conference here. 
He also said that political parties should not try and take mileage out of the January 12 press conference by the four senior most apex court judges to flag some problems, including the assigning of cases. 
"We met 15 judges and all have assured that issues have been resolved," he said. 
WATCH FULL VIDEO HERE: 
He added that all the four top judges -- Justices J Chelameswar, Ranjan Gogoi, Madan B Lokur and Kurian Joseph --have resolved the differences and were attending the court today. 
To a question whether any action should be taken against them for criticising the Chief Justice of India, he said there is no need of any action and they "are all honest and men of integrity." 
The four senior-most judges of the Supreme Court had on last Friday addressed the media to express their displeasure over top court's functioning under Chief Justice of India Dipak Misra. 
Without disclosing what they were upset about, the four judges noted that "they have been compelled to do this". They went on to say that "administration of the Supreme Court is not in order and that many things less than desirable have happened in the last few months". 
All four of them said that "they were convinced that for the survival of democracy an impartial judge and justices are needed".
In the presser, these judges had flagged some issues, including the assigning of cases in the apex court, and said there were certain problems afflicting the country's highest court. 
Yesterday, Chief Justice of India Dipak Misra had met a seven-member delegation of the BCI and Supreme Court Bar Association President Vikas Singh and assured them that the crisis would be sorted out soon and congeniality would prevail.
The four judges along with the CJI comprise in the Collegium - the highest decision-making body of the judiciary.