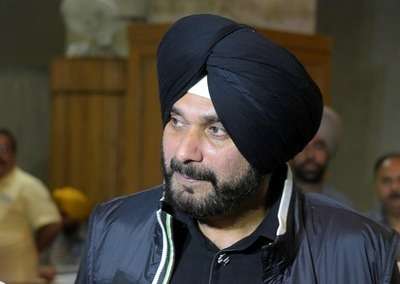 The Supreme Court will decide today whether Punjab cabinet minister and former cricketer Navjot Singh Sidhu is guilty in the 1988 road rage case. Sidhu contends that the man had died of a cardiac arrest and not because he was punched in the head.
In case the apex court upholds Sidhu's conviction, handed earlier by the high court, he would stand disqualified immediately as a lawmaker. After serving his sentence, he would not be able to contest elections for another six years.
Earlier, the Congress government in Punjab asked the Supreme Court to uphold the conviction of its minister Navjot Singh Sidhu in 1988 road rage case. The lawyer on the behalf of Punjab government had told the apex court that the statement given by Sidhu denying his involvement in the case was false. 
It is to be noted that Captain Amarinder Singh-led Congress government is in power in the state. Sidhu, a cabinet rank minister, holds multiple portfolios including Cultural Affairs and Tourism.
Supreme Court is in process of hearing Sidhu's plea against his conviction by the Punjab and Haryana High Court.
Sidhu, a cricketer-turned-politician was acquitted of the killing of Gurnam Singh by the trial court in 1999, but the acquittal was overturned by the high court in 2006, with him being convicted under Section 304 of the Indian Penal Code (culpable homicide not amounting to murder).
Meanwhile, the legal heirs of the complainant in the road rage case on April 5 filed a fresh plea against the cricketer on the basis of his 'admission of his role in the incident' during an interview with India TV Editor-in-Chief Rajat Sharma in Aap ki Adalat.
In a fresh application before a bench of Justices J Chelameswar and SK Kaul which is hearing an appeal in the case, they said Sidhu, appearing on Aap Ki Adalat on India TV "not only admitted to the involvement of both (him and co-accused Rupinder Singh Sandhu) in the brawl on the date of the incident but also admitted to having hit the victim Gurnam Singh with fist blows resulting in his death".
They produced a CD and YouTube link of the show and requested the court's permission to place on record the "piece of evidence", saying it was "absolutely vital and necessary for the complete elucidation of the truth".
Appearing for Sidhu, senior advocate RS Cheema opposed the plea, saying it could not be entertained after the trial was over.
"Do you want the case to be remanded back to trial court," the bench asked the applicant.