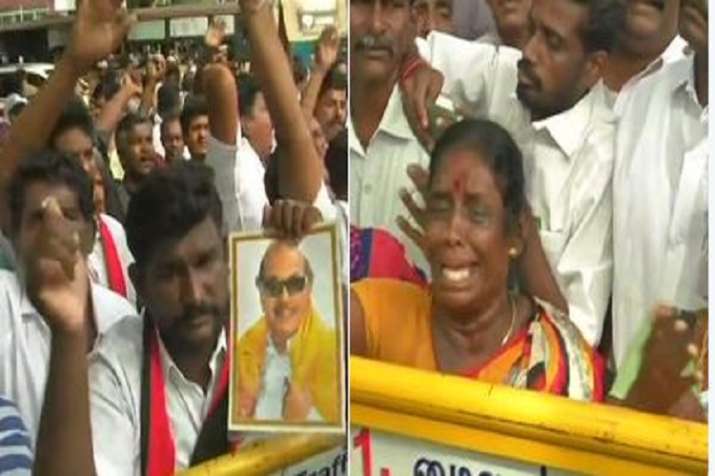 DMK chief M Karunanidhi health is better now after a "transient setback", doctors treating the 94-year-old politician said on Sunday night. Thousands of Karunanidhi's supporters have gathered outside Chennai's Kauvery Hospital praying for his speedy recovery. The condition of the DMK chief is said to be stable, as per the information released by the hospital authorities.
The police had lathi-charged supporters who urged the hospital staff for an update on the health condition of the leader.
"There was a transient setback in the clinical condition of Kalaignar, but his vital signs are normalising now," a medical bulletin released by the authorities of the Kauvery Hospital stated.
"With active medical support, his vital signs are normalising. He continues to be closely monitored and treated by the panel of expert doctors," Dr Aravindan Selvaraj, Executive Director of the hospital, had said in the press release.
Also Read | Karunanidhi Health Update: Vitals normalising after transient setback, says hospital; police lathicharge Kalaignar's supporters
The bulletin was released amid chaos outside the hospital premises as hundreds of DMK supporters and locals had gathered to inquire about the health of the party chief.
The 94-year-old veteran politician was admitted to the intensive care unit (ICU) of Kauvery Hospital at 1.30 am on Saturday after his blood pressure dropped. Following treatment, Karunanidhi's blood pressure has stabilised but he continues to be in ICU, the hospital said in afternoon.