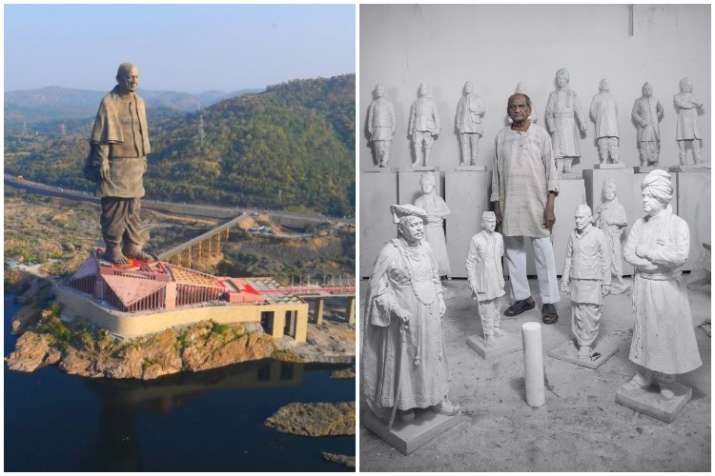 Ram Vanji Sutar, who designed Sardar Vallabhai Patel's 597-ft statue, is an inspiration to all those who say dreams get perished due to paucity of resources. The Statue of Unity is the world's tallest statue which was unveiled by Prime Minister Narendra Modi in Gujarat's Narmada on Wednesday.
Sutar started as an apprentice to a celebrated sculptor. Working with him for several years he went on to realise his dream.
Sutar's life took a dramatic turn when he was in class VI. His classs teacher was transferred to a neighbouring village and the teacher asked him to come along. He went with him only to find out that there was no class VI in that school. The teacher asked him to stay with him and help with the domestic chores.
There's a fascinating story behind him following his passion. One day, a golden sparrow came into his dream, asking him to follow his love for art. After that he fled the teacher's house next morning to realise his dream.
He travelled around, toiled to eke out a living and fund his education and finally got into JJ School of Arts Bombay. 
After graduating from JJ School of Arts, he moved to Delhi in 1959 and got a job in information and broadcasting ministry. Soon realising his true potential, he quit his job to work as a freelance sculptor. He opened a studio in Delhi's Laxmi Nagar and later moved to Noida in 1990. He has been running his studio since then in Noida. 
Sutar is an ardent follower of Mahatma Gandhi. Statues of Gandhi amde by him have been installed in Russia, France, England, Malaysia and Italy. He has also designed statues of Jawaharlal Nehru, Indira Gandhi, Sardar Vallabhbhai Patel, Jaiprakash Narayan, Maulana Azad, Maharaja Ranjit Singh, Saheed Bhagat Singh and many others.
Sutar's works have also found pride of place at Noida's Dalialit Prerna Sthal, Lucknow Ecopark, Rashtrapati Bhawan and the Amritsar War Memorial, among others. 
He is currently designing the busts of Param Vir Chakra awardees that will be installed at the National War Memorial at India Gate.
Sutar has been selected for the prestigious 2016 Tagore Award by the Union Ministry of Culture. The award jury was headed by Prime Minister Narendra Modi and included Chief Justice of India Justice Ranjan Gogoi, former chief election commissioner N Gopalaswami and national vice president of the BJP Vinay Sahasrabuddhe.
The award was instituted by the government during the commemoration of the 150th birth anniversary of Rabindranath Tagore in 2011. It was conferred first on sitar maestro Pandit Ravi Shankar. It carries an award prize of Rs 1 crore, a citation in a scroll and a plaque.