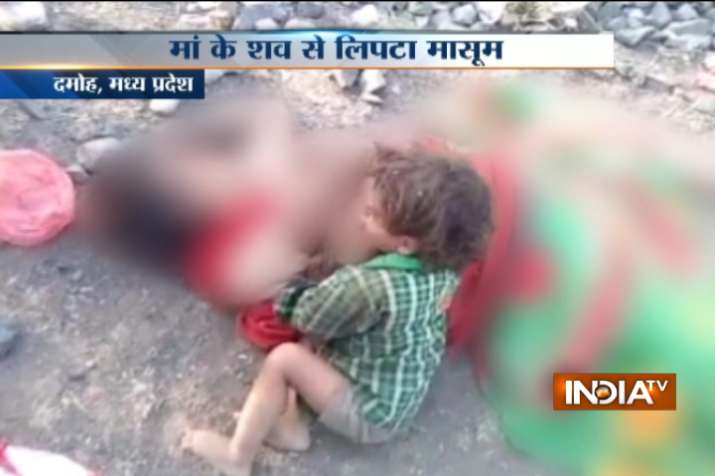 In a heart-wrenching scene, a one-year-old child was seen clinging to his mother who lay dead by the train tracks in Madhya Pradesh. The starving infant was trying to suck at his mother's breast who was lying dead along the railway tracks in Damoh district of Madhya Pradesh. According to media reports, the body of the woman was spotted at 6 am by the residents. Soon after, they informed the police. The video of the heartbreaking scene went viral soon after.
The woman was already dead when people saw her, this was told to Hindustan Times by railway police officer Anil Marawi. He also informed that the child was not injured. The woman apparently had some head injury leading to speculation that she might have fallen off a train and the child was saved as she must be holding him in her arms. 
"She was injured but probably conscious … opened a biscuit packet and gave some to the child. She breastfed her child to ensure he survives," the officer was quoted as saying.
The misery just didn't end here. When the woman and child were taken to the government hospital, the tragedy did not move the government hospital authorities who denied admission to the child as he couldn't pay Rs 10 admission fee. However, the boy was later admitted after ward boy Tarun Tiwari deposited the money.
The heartrending cries of the child when his mother was being taken away, shook everyone around. As per the latest information, the body has been sent for autopsy while the child has been shifted to a children's home as notices to contact his family have been issued. 
As per the reports, the identity of the women is still unknown and the police are trying to identify the woman with just one lead -- a purse that was recovered near her. The purse bears the name of a jewellery shop in Tikamgarh.