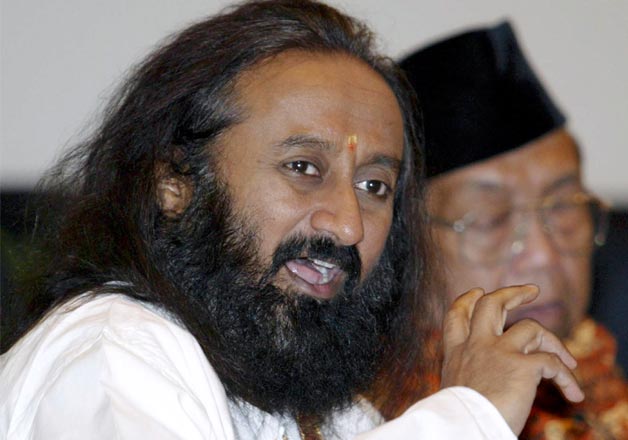 New Delhi: Sri Sri Ravi Shankar's Art of Living (AOL) today told the National Green Tribunal (NGT) that an estimated Rs 25 crore was being spent on the mega cultural event in the national capital, which is currently mired in a spate of controversies.
The National Green Tribunal (NGT) was enquiring into the details of expenses on construction of stage, levelling of flood plains, removal of debris and pontoon bridge for the said event,.
Elaborating further, AOL said that out of the total amount, around Rs 5 crore will be spent on construction of the stage and Rs 10 crore will go towards decoration. The event is expected to be a cultural extravaganza with lakhs of people expected to join in.
However, controversies over environmental clearances and the involvement of the army in a private event have driven activists to approach the Green Panel over the ecological threat the event of this proportion poses to the Yamuna Floodplains.
Meanwhile, the MoEF has informed the court through an affidavit saying there was no environmental clearance required for temporary structures on flood plains.
The affidavit came following some strong observations by the court to the ministry over failure to comply with its directions in the matter. Hearing the matter for the second consecutive day today, the NGT pulled up the MoEF for not filing an affidavit as asked by it regarding environment clearances for the World Culture Festival being organised by AOL.
Resuming the hearing on the matter, the NGT asked the ministry 'why permission was not sought from it for such a huge event being organised on the banks of Yamuna River'?
"Will such huge activity not require your permission," the NGT had asked MoEF.
"Why did it (Ministry) think the massive stage being built for the event is temporary in nature? Who will ensure the structure is removed after the March 11-13 festival gets over," the NGT questioned. Asking the MoEF to not test their patience, the NGT asked them flatly whether permission had been granted to build the bridge-like structure. The NGT also asked Delhi Pollution Control Committee if it can allow putting enzymes in river Yamuna without examination.
The Ministry of Water Resources too had informed the NGT that it had not granted permission for 'World Cultural Festival' scheduled from March 11 to 13.
On the other hand, Sri Sri Ravi Shankar has appealed to all parties to not politicize the event as the World Culture Festival being organised by the Art of Living foundation on the Yamuna floodplains was an event to unite everyone.
"I appeal to all parties to not politicize it. It is to unite all cultures, nations, religions & ideologies. Let's come together!," he tweeted today.