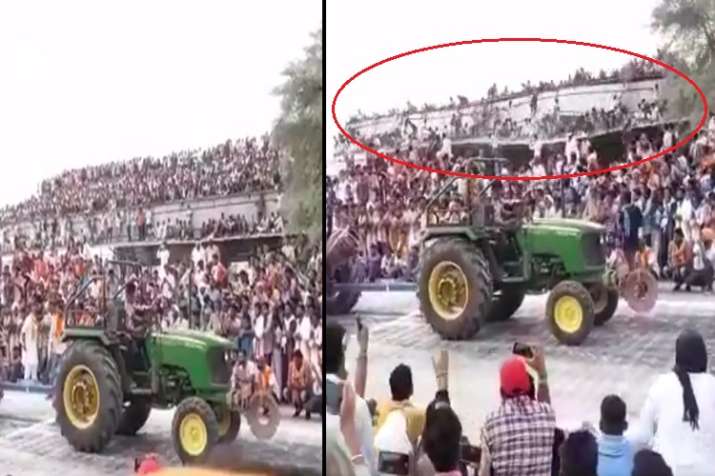 Several people have been seriously injured after a tin shed collapsed in an annual agricultural fair in Rajasthan's Sri Ganganagar. The accident took place took place at the Aanaz Mandi in Padampur area when hundreds of people had climbed over the shed to watch the annual fair. The shed gave in under the weight of the crowd. People fleeing from the collapse were further caught in a stampede, increasing the damages further.
At least 50 people have been reportedly seriously injured in the accident. Scores of people were still trapped under the shed, rescue operations are on. The police officials on the spot have, however, said that the number of injured is limited to 17. Out of which only five serious injuries, Rajasthan special DG NRK Reddy told India TV, adding that no one has been killed in the incident. 
"No loss of life in the incident. Total 17 people have received injuries," Sri Ganganagar Superintendent of Police Yogesh Yadav told ANI. 
#WATCH: Tin shed collapses during a tractor race in Sri Ganganagar's Padampur earlier today. Many feared injured. #Rajasthan pic.twitter.com/rel9ChXhnD

— ANI (@ANI) July 29, 2018
#Visuals from the hospital where 17 people who received injuries after a tin shed collapsed during a tractor race in Padampur earlier today, are being treated. #Rajasthan pic.twitter.com/2cDuBAJBHf

— ANI (@ANI) July 29, 2018
According to the ground report, even though it is an annual festival there was no police personnel present at the event. State Chief Minister Vasundhara Raje has ordered authorities to provide all assistance and has sought a report. 
Senior police officials said that an enquiry has been launched to check if the event was being organised after due permissions and if it was then what kind of security was issued for crowd control. 
Watch LIVE coverage on India TV: