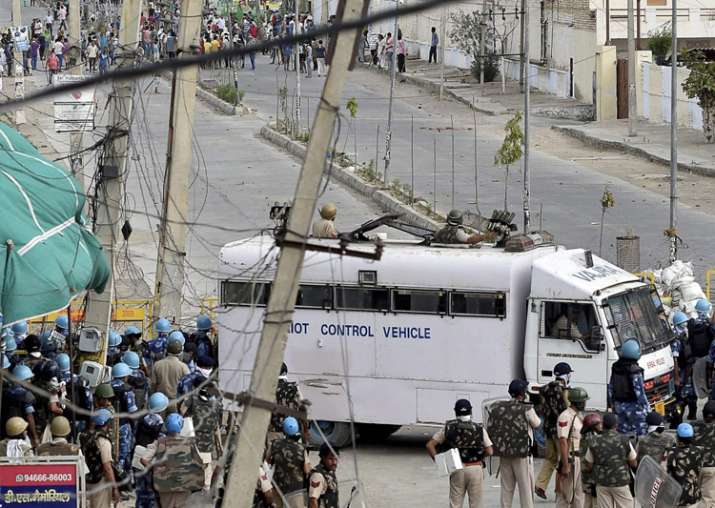 A day after Dera Sacha Sauda chief Gurmeet Ram Rahim Singh' conviction in a rape case which triggered widespread violence across Punjab and Haryana, normal life in both the neighbouring states remain hit today due to restrictions by police and army personnel.
Minor incidents of violence were reported from Haryana with government deploying Army to sanitise the area in the periphery of the Dera headquarters near Sirsa. According to police, the situation was under control in the state and no reports of violence was reported in Panchkula. However, Section 144 was still in place and heavy security personnel have been deployed to ensure peace.
In neighbouring Punjab, authorities have relaxed curfew at all places, except in Patiala as Ram Rahim's followers are expected to cross the town while returning to Sirsa.
Yesterday, at least 30 people were killed and more than 250 injured in the widespread violence, arson and police firing following the conviction of Ram Rahim in the 15-year-old rape case. While 28 people were killed in Panchkula, the epicentre of the violence, two died in Sirsa.
Haryana DGP (Jails) KP Singh today informed that Ram Rahim Singh has been kept in Rohtak's Sunaria jail and that he will not be brought to Panchkula for sentencing on Monday. The sentencing will either be done through video conferencing or, if required, the court will be held there (Rohtak prison).
Last night, Army had carried out a flag march in Sirsa to prevent any untoward incident.
In New Delhi, Union Home Minister Rajnath Singh chaired a high-level meeting today to review the security condition in the country, particularly Haryana, and was told that the situation in the state was under control.
Coming out from the high-level meeting on Saturday, Union Home Secretary Rajiv Mehrishi said the director general of Haryana Police had assured the Central government that the situation was under control now.
On the other hand, the Haryana government ordered a search of all congregation centres belonging to the Dera Sacha Sauda in the state. A senior official said that government has ordered a search of all 'naam charcha ghars' (congregation centres) of the Dera Sacha Sauda wherever located in Haryana.
"We have asked security personnel to conduct searches at all Dera centres thoroughly and seize any weapons found," the official added.
The search operation would include the Dera headquarters in Sirsa and the congregation centre in Panchkula, where a CBI court pronounced its judgement against the self-styled godman.
Meanwhile, facing flak over failure to check violence, Haryana government has suspended the Deputy Commissioner of Police of Panchkula, alleging that a 'defective' order by him allowed the crowd build-up in the district.