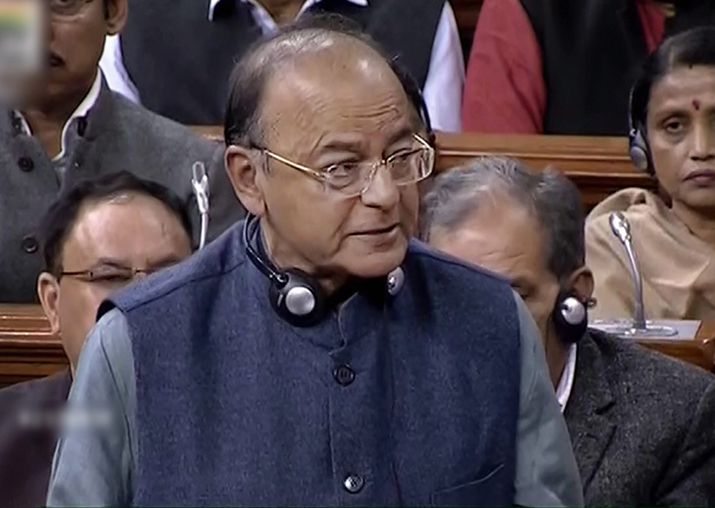 Finance Minister Arun Jaitley today assured agitating members from Andhra Pradesh that the Centre is looking at all issues concerning the state sympathetically and some decision on a special package and revenue deficit will be worked out in the next couple of days. 
There was high drama in the Lok Sabha as soon as Finance Minister Arun Jaitley stood up to reply to the budget discussion. 
Agitating TDP members, who were already in the Well, turned towards Jaitley and urged him to consider their demands. 
Jaitley asked them to allow him to begin is speech in which he would also refer to the state. Union Ministers Ananth Kumar and Statistics and DV Sadananda Gowda too tried to convince the TDP members to allow Jaitley to speak. 
Speaker Sumitra Mahajan warned the TDP against showing their back to the Chair. It took TDP leader Thota Narasimham several minutes to convince his colleagues to allow Jaitley to speak. 
When Jaitley spoke on Andhra Pradesh, the TDP members were standing close to him, prompting union minister Uma Bharti to shield his cabinet colleague from any possibledisruption. 
An NDA ally, TDP has been disrupting proceedings, demanding special package for the state. 
In his speech, Jaitley said many of the promises made at the time of bifurcation of the state are being fulfilled and various other works are in the progress. 
But his assurance failed to placate the members of TDP and YSRC who protested by displaying placards and shouting slogans in the Well of the House. Some of them also squatted in the Well in protest. 
When the state of Andhra Pradesh was bifurcated, it was also thought about economic disadvantage that the state is going to face, Jaitley said, adding a package was promised to the people the people of the State in the Andhra Pradesh Reorganisation Act, 2014. 
"Now the package involved several aspects, many of which have been implemented. Some of them are work in progress. We have given so far funds as promised for a large number of institutions which are being created because most of the institutions went to the Telangana state. Therefore, AP is entitled to these institutions," he said. 
"Funds have been given and funds will continue to be given" for establishment of those all the institutions which are mentioned in the Act, he said, when the institution is created, as it is being built up, funds will be given. Now there are two areas which are being worked out. The first was amount in lieu of special package. Now the state had wanted the money to come by way of externally aided projects. On January 3, the Chief Minister of Andhra Pradesh wrote to me saying that this should be given through Nabard, he said. 
Arrangement has been worked out and the officers after confirmation from the State have to inform the Expenditure Department about the acceptability, he said. 
He assured that the government will try and expedite that as soon as we get consent of state government. 
As far as revenue deficit is concerned, he said, there is another proposal which is being made. 
"The state officers have again back. They are expecting something more. We are trying to narrow that gap and bridge that gap. These two would be worked out in the course of next couple of days," he said. 
With regard to proposals pertaining Railway and Petroleum Ministry, he said, "We are already in discussion with various ministries, our friends from Andhra Pradesh are also in discussion and we are trying to find out a solution which is possible."
"We will try and do it extremely early. We are extremely sympathetic to the people of Andhra Pradesh and therefore would look into each one of these issues extremely sympathetically," he said. 
As far as creation of capital is concerned, he said the Centre has made some payments for backward districts development and for ambitious Polavaram project through National Bank For Agriculture And Rural Development (Nabard) and added Rs 4,500 crore have already been paid.