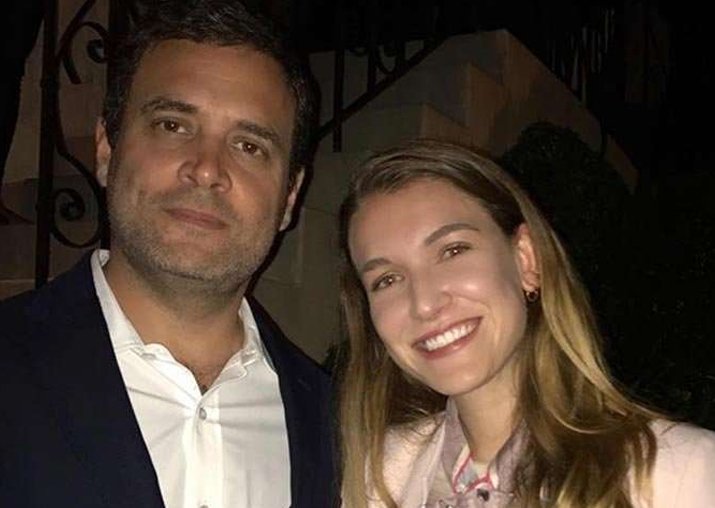 Spanish-Australian actress Nathalia Ramos has posted her picture with Congress Vice President Rahul Gandhi on Twitter and Instagram. Ramos called Rahul Gandhi "eloquent" and "insightful in her post on Twitter.
The picture posted on Twitter and Instagram has created buzz on Social media. Ramos posted the picture on Twitter on September 14 and the tweet has received 1,623 likes and 1,233 retweets. More than 1,100 people posted their comments on the Twitter post by Ramos till Sept 22. 
Here is the Twitter post by Nathalia Ramos-
Last night with the eloquent and insightful Rahul Gandhi..... pic.twitter.com/3w27FBb0Pa

— Nathalia Ramos (@nathalia73) September 14, 2017
Similarly, Ramos posted the same picture with Rahul Gandhi on her Instagram account also and the post has received more than 5,500 likes till Sept 22. 
"Last night with the eloquent and insightful @rahulgandhi. I feel so blessed to have the opportunity to meet and listen to so many brilliant thinkers from all parts and perspectives of the world. It is only with an open mind and open heart that we can really make the world a better place. Thank you @berggrueninst for opening mine. #IdeasMatter," wrote Ramos as the caption of her picture with Rahul gandhi posted on Instagram.  
Here's the Instagram picture posted by Ramos-
Who is Nathalia Ramos
Nathalia Norah Ramos Cohen, born in 1992, is a Spanish-Australian actress. Ramos also holds US citizenship. She is known for her roles of Yasmin in the 2007 film Bratz, Jill in the 2013 film The Damned, and lead character Nina Martin in the 2011 Nickelodeon television series House of Anubis.