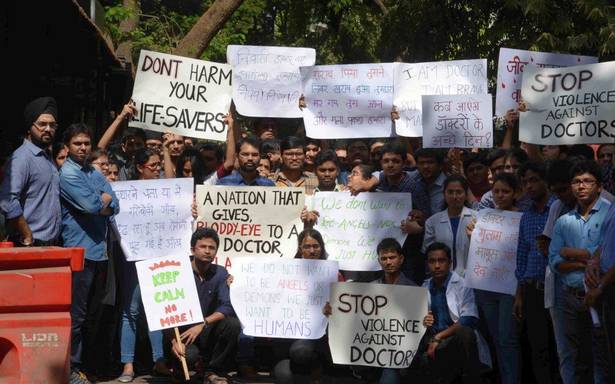 With the health services paralysed in Maharashtra for the third consecutive day, the Brihanmumbai Municipal Corporation (BMC) issued notice to around 500 resident doctors in Mumbai, directing them to resume work or face disciplinary action. Around 4,000 doctors have stayed away from work since Monday demanding better security at hospitals in the wake of a string of attacks on them.
The government, in a stern warning to the protesting doctors, said that if they fail to resume work by 8pm today, they will not be paid salary for the next six months. 
"Six months salary of doctors on strike to be cut if they don't get back to work by 8 PM today," Maharashtra Medical Education minister Girish Mahajan said today.
6 months salary of doctors on strike to be cut if they dont get back to work by 8 PM today:Maharashtra Medical Edu Minister Girish Mahajan pic.twitter.com/0liSKr05oL

— ANI (@ANI) March 22, 2017
The agitating doctors also face expulsion and cancellation of their medical registrations as per a January 31, 1996 Government Resolution.  
On Tuesday, the Bombay High Court directed Maharashtra resident doctors – who are on strike – to resume duty or face action. 
"If you (doctors) do not want to work, then resign. You are not factory workers that you will resort to such protests. Shame on you. How can doctors behave in such a manner?" HC Chief Justice Manjula Chellur asked. 
However, despite the court's directive, the Maharashtra Association of Resident Doctors (MARD) have continued their protest to get their demands approved. 
Despite serving notices to 500 resident doctors, the BMC has failed to curtail the mass protests, which is now being openly supported by the Indian Medical Association (IMA). 
Asked about the plight of patients due to the stir, Indian Medical Association (IMA) general secretary Parthiv Sanghavi said, "One must not forget that resident doctors are the junior-most ones in any government hospital. There are senior doctors who are still treating patients in these hospitals and they are not part of such mass leave. In some cases, there are some delays and we feel bad about it, but we are forced to take such step." 
As a part of the protest, some of the resident doctors have availed leave, while the others are not reporting to duty. They are claiming that a large number of relatives come along with the patients and this puts pressure on them and affects their working. 
Recently, a resident doctor was severely beaten up in the Dhule civil hospital by the relatives of a patient. In Nashik civil hospital, an on-duty doctor and a nurse were manhandled by the kin of a patient who died on Thursday. 
Last week, a doctor in the BMC-run Sion hospital in Mumbai was also manhandled. 
The doctors are demanding change of existing security staff as they are inefficient to handle situations of attacks by patients relatives. 
Other demands include appointment of armed police personnel for 24 hours at casualty, surgery, ICU wards with immediate effect, and a police station in the premises of GMCH with adequate staff.