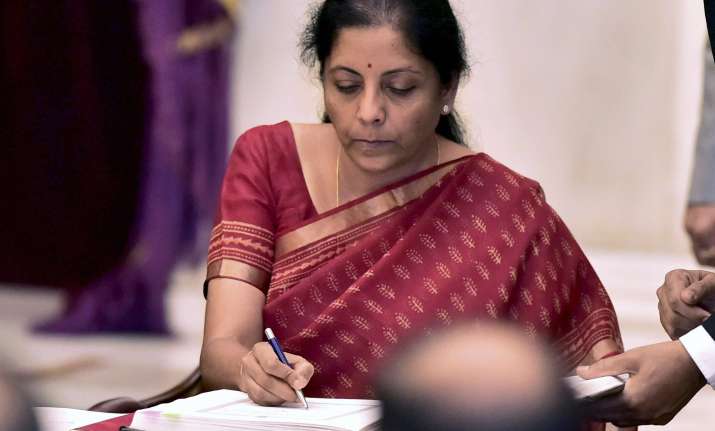 Elevated to the rank of Cabinet minister in Sunday's major rejig of the Narendra Modi Cabinet, Nirmala Sitharaman on Thursday took charge as India's first full-fledged woman Defence Minister. 
She could not take charge earlier as Arun Jaitley, who has been holding the additional charge of Defence, was on a visit to Japan for a bilateral dialogue.
Jaitley had said on Sunday he was going to Japan for the meet even though ideally Sitharaman should have attended it, but logistical arrangements at the last moment were not possible.
Addressing the media today, Sitharaman said, "I thank the Prime Minister for having vested confidence in me and giving such critical portfolio. Armed forces will be my first priority". 
"Armed Forces' family a priority. It's in their welfare that we ensure soldiers remain assured their interests being taken care of," she added. 
An influential spokesperson for the BJP in the run-up to the 2014 polls, Sitharaman is the second woman in the crucial Cabinet Committee on Security in the current dispensation after External Affairs minister Sushma Swaraj.
Asked if her selection as Defence Minister broke a glass ceiling, Sitharaman on Sunday said: "Yes. Absolutely."
"I think the Prime Minister has always supported women but today I think he has sent a very big message. Everything Indian women were waiting for.. it is for us to work through and perform (to achieve it). I am overwhelmed. I understand the impact of the decision. It is a huge responsibility. I just have no words in which I can convey my gratitude to the Prime Minister, the party and to my senior colleagues that they thought I am good enough for the role," she added.
Late Prime Minister Indira Gandhi has been the only woman to hold the portfolio of defence. She held charge of the Defence ministry twice - from December 1 to 21 in 1975 and January 14, 1980 to January 15, 1982.