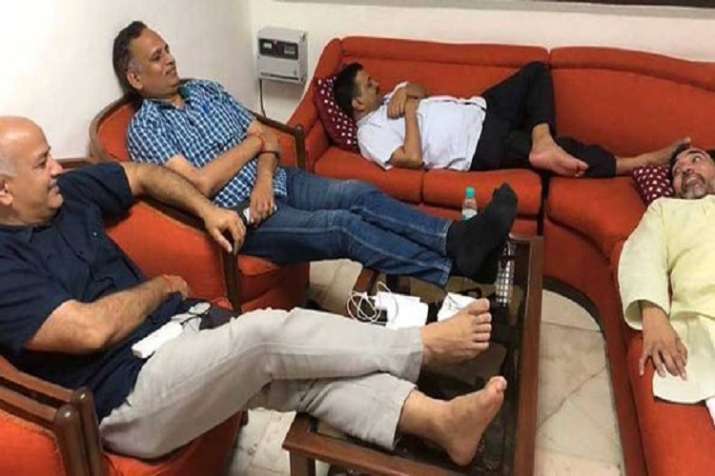 The protest by Delhi Chief Minister Arvind Kejriwal and his ministers entered the fifth day on Friday. "Good morning. Today is the fourth day of hunger-strike by Satyendar Jain and third for Manish Sisodia," CM Kejriwal tweeted. 
"Yesterday we had asked for a meeting with L-G but he didn't even reply. Requested PM to intervene but he also not replied. I hope Delhi will get a solution soon," Kejriwal further said.
Delhi chief minister with this team continue to lodge their protest by lodging themselves in the waiting of Lieutenant Governor (L-G) Anil Baijal's office.
On Thursday, Kejriwal's wife alleged that the families of the ministers, who are staging a sit-in since Monday evening, were not being allowed to meet them. 
Delhi CM and AAP ministers Manish Sisodia, Gopal Rai and Satyendar Jain have been staying put at the L-G office' waiting room over their demands, including a direction to IAS officers to end their "strike" and action against those who have struck work. 
In counter-protest, AAP's rebel legislator Kapil Mishra along with BJP MP Pravesh Sahib Singh Verma and three party MLAs sat on dharna outside the chief minister's office at Delhi Secretariat. 
Following a complaint, the general administration department of the Delhi government ordered the removal of posters and banners put up by the BJP and Mishra.