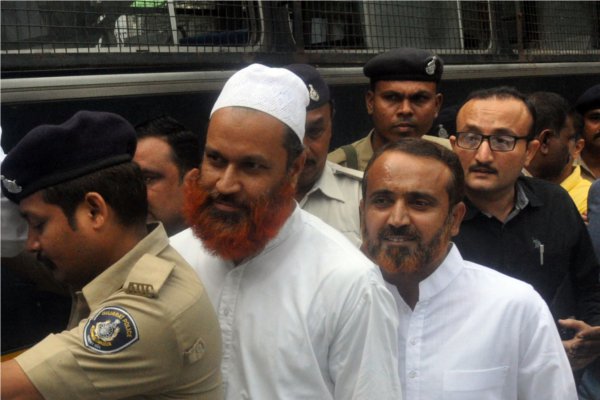 The former all-India head of Students Islamic Movement of India (SIMI) Safdar Nagori, and his 10 accomplices were on Monday awarded life imprisonment by a special CBI court in Indore on Monday on charges of sedition and indulging in terror activities. 
The decision is a major boost for law enforcement against the banned group which has allegedly been the feeder for jihadi groups. 
Special Additional Sessions Judge B K Paloda pronounced all the 11 SIMI activists guilty under IPC sections 124(A) (sedition) and 153 (A)(promoting enmity between different groups on grounds of religion) and also under the relevant provisions of the Unlawful Activities (Prevention) Act. 
On a plea of 10 of the accused lodged in Ahmedabad'sSabarmati Central Jail, they were informed about the court's judgement through video-conferencing. 
Besides 45-year-old Nagori, the others convicted are Hafiz Hussain (35), Aamil Parvaz (40), Shivli (38), Qamruddin (42), Shahduli (32), Qamran (40), Ansar (35), Ahmed Baig (32), Yasin (35) and Munroz (40). 
Nagori, Parvaz, Qamruddin, Qamran, Shivli, Ahmed Baig and Hussain were also convicted under IPC section 122 (collecting arms with intention of waging war against the government of India). 
In its 84-page judgement, the court observed, "It appears from the activities of the convict that they don't have faith in the lawfully and constitutionally established Government of India. 
"Their acts are against national unity and integrity of the country. They are involved in illegal activities by fomenting religious hatred with an aim to create serious danger for the entire humanity." 
The prosecution has produced 27 witnesses as evidence to prove crime against the SIMI activists.