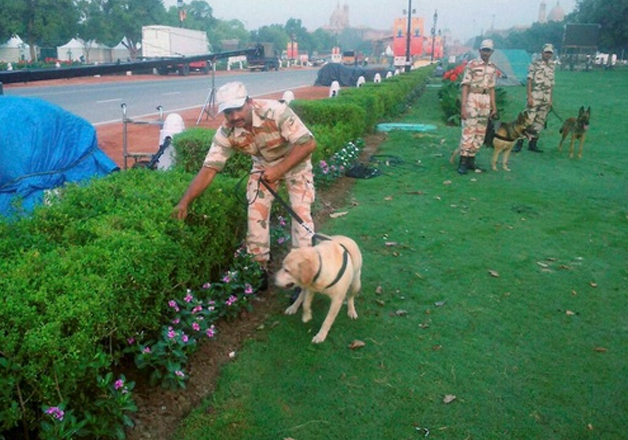 Army dogs have been an integral part of the Armed Forces. Trained to fight for the country till their last breath, their silent service to the nation is hardly showcased.
According to a report in India Today, the canny canines from dog squads have foiled at least 16 terror bids targeting high-profile events in the last two years.
Intelligence agencies have identified several events including Parliament sessions, International Yoga Day celebrations in 2015 and 2016, last year's Independence Day, US President Barack Obama's visit in January 2015, Indo-Africa Summit and the Art of Living event where specific inputs for attacks were shared with security forces and the presence of the dogs helped them to foil the plans of terrorists to carry out attacks.
Citing secret inputs based on recent intercepts, the report claims that the attackers are now planning to hit the training centres of the dog squads.
The crack K9 unit of the Indo-Tibetan Border Police (ITBP) was part of several operations launched to foil terror strikes. With the help of their strong sense of smell, these agents are experts at sniffing out explosives and help sanitise the venues.
The dogs undergo rigorous physical and IED-detection training at an advanced training facility in Chandigarh for months before they are inducted in the ITBP.
Officers, while appreciating their sharp performances, say that these dogs were of great help during Obama's visit, International Yoga Day celebrations, Independence Day and Republic Day celebrations.
"They have emerged as strategic national assets. Over the years, highly trained K9 units have become a standard feature during high-threat international events held in the capital," a senior government official was quoted as saying.
Earlier this year, in order to enhance the skills of police dogs deployed to secure some VIPs, including the Prime Minister, the ITBP began a rigorous 24-week training session of an elite squad of sniffers working with the SPG.
Rex, a black Labrador from the unit is also a part of Special Protection Group (SPG) that is responsible for providing security to Prime Minister Narendra Modi.
Officials privy to the training exercise say the SPG forces increasingly rely on sniffing and explosive detection skills of the canine troopers to ensure overall protection to not only the Prime Minister but other protectees under its cover. These include ex-prime ministers and their immediate family members.
ITBP 'K9' squad and its trainers are one of the best in this domain and have been requisitioned by central security agencies everytime there is a high-profile event involving VVIPs and foreign dignitaries in the country.