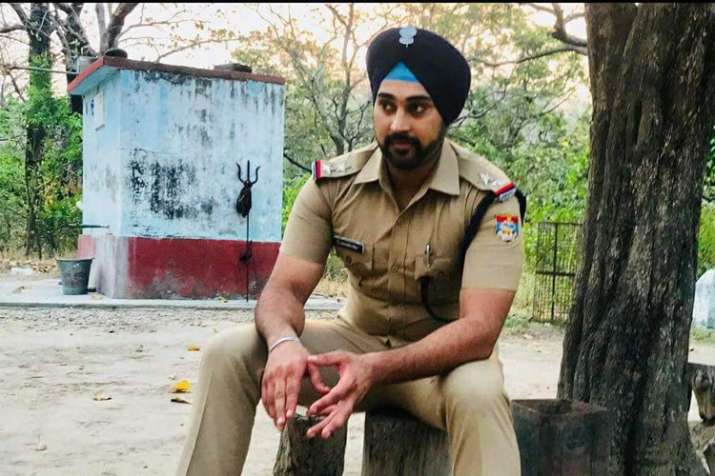 A video purportedly showing a Sikh policeman saving a Muslim youth from a mob after the latter was allegedly found in a compromising position with a Hindu girl at a temple near Ramnagar in Nainital district has gone viral. 
Uttarakhand ADG (law and order) Ashok Kumar said the incident occurred earlier this week when a Muslim youth went to meet his girlfriend, a Hindu, at Garjia Devi temple about 15 km from Ramnagar.
Locals somehow came to know about it and reached the temple to "teach the duo a lesson", he said.
On being informed about a trouble in the area, sub-inspector Gagandeep Singh rushed to the spot where he found a mob preparing to attack the couple alleging that they had been found in a compromising position.
He immediately rushed to their rescue drawing the Muslim youth close to him to act as a shield to him, and in the process taking several blows from the mob on himself, the ADG said, adding the mob was dispersed and the couple was taken to a police station from where they were sent back to their families.
Five people whose faces are visible in the clip have been booked and a search is on to nab them. A reward of Rs 2,500 has been announced for Gagandeep Singh for his act of bravery, he said.
We salute the courage, compassion & presence of mind of our young colleague from #Uttarakhand Police in saving a man from a lynch mob. SI Gagandeep Singh exemplifies the values that should guide every police officer.https://t.co/e7AoXGzAPn@tsrawatbjp @HMOIndia @CMuttarakhand

— IPS Association (@IPS_Association) May 25, 2018
The Uttarakhand cop is now being hailed as a hero on the social media. The IPS Association has also lauded the deed of the cop.
This police officer is an inspiration for all.

Gagandeep Singh bravely stood against the goons and almost single handedly prevented a possible lynching. pic.twitter.com/49MThFwWQ9

— Dhruv Rathee (@dhruv_rathee) May 25, 2018
Gagandeep Singh, Courageous Brave, Sikh Police Officer saved a Muslim man who came to meet his Hindu Girlfriend, from being Lynched by Hindutva Mob in Uttarakhand. #ISalute #SinghIsKing pic.twitter.com/oXGgGHCUfv

— Aarti (@aartic02) May 24, 2018
Rare moments when we take pride in men and women of integrity in public services. Gagandeep Singh discharged his duty as a police officer and saved a Muslim youth from being lynched by a mob. Respect !#GagandeepSingh pic.twitter.com/iCdrS53zRy

— karvaan India (@KarvaanIndia) May 25, 2018
(With inputs from PTI)